The Wise Man's Fear by Patrick Rothfuss wins the David Gemmell Legend Award
The Wise Man's Fear by Patrick Rothfuss wins the David Gemmell Legend Award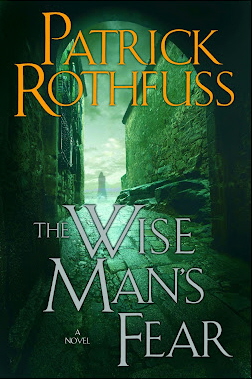 Patrick Rothfuss's The Wise Man's Fear, the second volume of The Kingkiller Chronicles, has won the David Gemmell Legend Award for Best Fantasy Novel of 2011.
The David Gemmell Legend Award is a fan-voted award administered by the DGLA. The Legend Award for Best Fantasy Novel was first granted in 2009, to Andrzej Sapkowski's Blood of Elves; in 2010 the winner was Graham McNeill's Empire: The Legend of Sigmar, and last year's was Brandon Sanderson's The Way of Kings.
The nominees for the 2012 award also included The Heroes by Joe Abercrombie, Blackveil by Kristen Britain, Warhammer: Blood of Aenarion by William King, and The Alloy of Law by Brandon Sanderson.
The Morningstar Award for Best Fantasy Debut was awarded to The Heir of Night by Helen Lowe.
The Ravensheart Award for best Fantasy Book Jacket/artist went to the cover for Warhammer: Blood of Aenarion, done by Raymond Swanland.
Complete details are available at the DGLA website.
Congratulations to all the winners!