Goth Chick Crypt Notes: Jonathan Frid: December 2, 1924 – April 14, 2012
Goth Chick Crypt Notes: Jonathan Frid: December 2, 1924 – April 14, 2012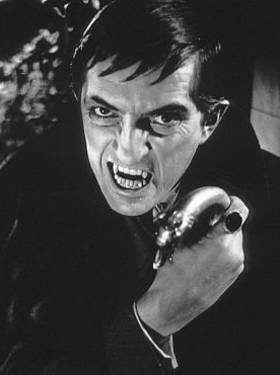 Before we had heard of Lestat, Bill Compton or Edward Cullen, one vampire alone dominated our collective pop culture conscious; the formidable and classic, Barnabas Collins.
This week the offices of Goth Chick News are draped in black, or I should say more draped in black, in respectful mourning for Mr. Jonathan Frid, who portrayed the character on the soap opera/horror series Dark Shadows (making his first appearance at the doors of Collinwood on April 18, 1967) until 1971, and who died last Saturday at the age of 87.
As we've previously discussed, Johnny Depp will be reprising Mr. Frid's iconic role in the Dark Shadows remake set for release on May 11th, though it's probably more appropriate to call is a "redo" as director Tim Burton has elected to make it a… sigh… comedy.
Depp released the following statement today:
Jonathan Frid was the reason I used to run home from school to watch Dark Shadows. His elegance and grace was an inspiration then and will continue to remain one forever more. When I had the honor to finally meet him, as he so generously passed the torch of Barnabas to me, he was as elegant and magical as i had always imagined. My deepest condolences to his family and friends. The world has lost a true original.
Apparently Depp, like the rest of us, didn't even hear about this sad loss until Thursday, when Frid's Dark Shadows co-star Kathryn Leigh Scott paid tribute to him on her website:
I am so grateful to have worked with Jonathan, and to have known him as the charismatic, entertaining, complex and plain-spoken man that he was. What fun we had working together! He was irascible, irreverent, funny, caring, lovable and thoroughly professional, and in the end became the whole reason why kids 'ran home from school to watch' Dark Shadows.

I am so grateful that nearly five decades later, Jonathan, David Selby, Lara Parker and I were invited to play cameos in the new Dark Shadows, directed by Tim Burton and starring Johnny Depp as Barnabas Collins. How wonderful for the four of us to work together again and celebrate the legacy of Dark Shadows. I won't ever forget the moment when the two Barnabas Collinses met, one in his late 80s and the other in his mid-40s, each with their wolf's head canes. Jonathan took his time scrutinizing his successor's appearance.

'I see you've done the hair,' Jonathan said to Johnny Depp, 'but a few more spikes.' Depp, entirely in character, replied, 'Yes, we're doing things a bit differently.'
Though it does indeed appear that Mr. Frid willingly passed his wolf's head cane to Depp and the Hamilton, Ontario hospital where Mr. Frid died lists the cause as "natural," we can only hope that watching the trailer for the upcoming version of Dark Shadows isn't really what put him in his coffin for good.
Adieu Barnabas…