An Ode to the Berkley Medallion Conans
An Ode to the Berkley Medallion Conans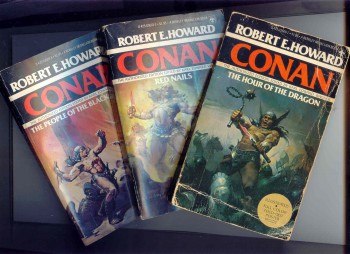 Karl Edward Wagner was and remains the most qualified individual to weigh in on the issue of Conan stories penned by someone other than Robert E. Howard, given that he wrote arguably the best pastiche of them all (The Road of Kings). So it behooves us to listen to what he had to say in the foreward to the Berkley Medallion Edition of Conan: The Hour of the Dragon (August 1977):
I have written Howard pastiches myself, so I can speak both as a reader and an author: Every author leaves his personal mark on whatever he writes; the only man who could write a Robert E. Howard story was Robert E. Howard. Read Howard pastiches as you will — but don't let anyone kid you that you're reading Robert E. Howard. It is far more than a matter of imitating adjective usage or analyzing comma-splices. It is a matter of spirit.
While Howard fans these days are spoiled by the Del Reys, prior to 1977 you could not buy a collection of the Conan stories without editorial emendations or the presence of pastiches. Both the widely printed Lancer/Ace collections of the 1960s and 70s and the rarer Gnome Press editions from the 1950s were marred by editorial changes and additional non-Howard material. That all changed with the Berkley Medallion Editions, published by the arrangement of the late, great, Glenn Lord (1931-2011), and edited by legendary horror and swords and sorcery author Karl Edward Wagner (1945-1994). These consist of three books in an aborted series that was supposed to run longer and include all 21 of Howard's original stories. They include The Hour of the Dragon, The People of the Black Circle, and Red Nails. To prepare the Berkley Medallion Edition manuscript Wagner made photocopies directly from the pages of Weird Tales, correcting only obvious typographical errors.
As a kid I didn't understand anything about the contentious issue of Howard pastiches. All I knew was that I liked Conan and that these gorgeously-covered books said "The Authorized Edition Edited By Karl Edward Wagner," so I bought them. I was disappointed to find that the full color fold-out poster inside had been removed from my copies (undoubtedly they would have festooned my bedroom wall, and probably were on some other kid's) but in the end that was okay: The stories remained. Only later did I move on to the wonderful forewards written by Wagner and discovered the cauldron of controversy brewing in Howard fandom.
I happen to own the paperback editions of the Berkleys and I'm glad I do as apparently the hardcovers were themselves subject to editorial emendations that rounded off the sharp edges of Wagner's criticisms of the likes of L. Sprague de Camp.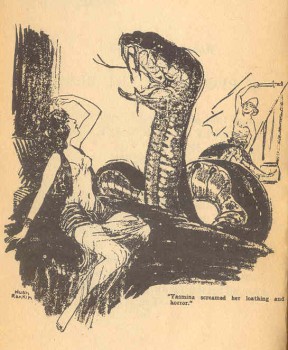 When he wasn't writing about the importance of preserving Howard in his original form, Wagner also included some shrewd observations and analysis of the stories. He calls "Beyond the Black River" a "Hyborian Age variant of the American frontier." Recalling a theory first floated by Amra editor George H. Scithers, Wagner explores Scithers' theory that Howard wrote himself into the plot of "Beyond the Black River" as the young woodsman Balthus, with Howard's beloved dog Patches playing the part of Balthus' hound Slasher. "It is interesting to think of Howard stepping into his own story to meet Conan face-to-face," writes Wagner. I do disagree with his assessment of "Red Nails," which he calls "something of a disappointment," a solid Conan story but not worthy of being Howard's final sendoff to his most famous creation. I happen to think it's one of Howard's best. Writes Wagner:
For myself, I think the disappointment lies in knowing that "Red Nails" is the last Conan story Howard wrote. As such, it's an anticlimax, emotionally. Conan deserved a better farewell. A hero of his stature should have earned a Götterdämmerung, not just a kiss.
The Berkley Medallion Editions are also noteworthy for their gorgeous full-color Ken Kelly cover art, black and white pulp artwork (Hugh Rankin and others), fine two-page maps of the Hyborian World, and of course the forewards from Wagner that appropriately set the stage for those about to rock, experiencing pure Howard for the first time since Weird Tales:
But now… It is summer of 1934. You have just spent two-bits for the August issue of Weird Tales. Margaret Brundage has done the cover again — a rather unlikely Conan wrapped up in a huge green serpent, a semi-draped blonde watching the struggle. You open to the first story: "The Devil in Iron…"
I love my Berkley's because not only do they possess the power to transport me back in time to the 1930s, but also a period a bit closer to us temporally. In the early 1980s I came to Howard through a treasure-trove of cheap Savage Sword of Conan back issues. Later I moved on to the prose stories themselves, purchasing used copies from the Ace/Lancer line and later the Berkleys. The bookstore I frequented had multiple copies in stock, a whole shelf full of Conan and other tattered fantasy paperbacks. I paid a whopping 50 cents a book, and on the way back home would pick up a candy bar or two and a can of soda from a nearby drugstore to enjoy an afternoon of reading. It all sounds so quaint and after-school special-ish now, but it remains a fond memory from my childhood (funny how the concept of a bookstore now seems outdated). Those were better times, with Wagner and Lord still the living stewards of a legendary writer.