The Future of Bookstores Latest Update
The Future of Bookstores Latest Update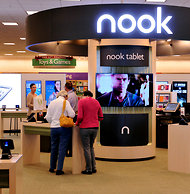 So it now it seems publishers are counting on Barnes and Noble to help them stay in business.  Which is funny because it wasn't that long ago when Barnes and Noble was a slayer of independent bookstores and an enemy of the books business; now it's considered the only thing that stands in the way of total world domination by Amazon.
Interesting that the notion of a bookstore is beginning to look more and more like an Apple store. Which is not necessarily a bad thing. My kid just got a Nook and she goes to our local Barnes and Noble because she can read certain e-books online for free there. Meanwhile she can consume some mocha lattes and maybe even take home a real book. Like everyone else I shop on-line, but the atmosphere of a bookstore leads to impulse buys that isn't the same as scanning some algorithm's suggested reads.
Speaking of physical books, I just finished Richard Morgan's The Cold Commands, Book Two of presumably a trilogy ironically titled A Land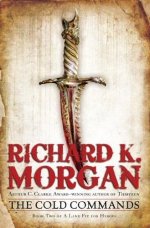 Fit for Heroes (in which the land is neither fit for heroes nor populated with behavior typically classified heroic) by Richard K. (whose middle initial is used on book jackets only on the American side of the pond for some reason) Morgan describe it as "genre busting." That's not just some publicist's hyperbole.  You can read the complete review over here at the SF Site.