Dabir and Asim return in The Waters of Eternity
Dabir and Asim return in The Waters of Eternity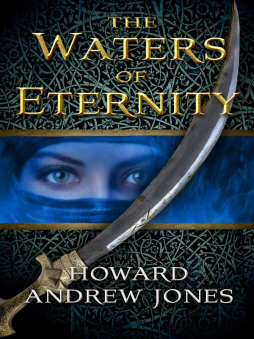 Dabir and Asim, the heroes of The Desert of Souls, return in a new collection from Black Gate Managing Editor Howard Andrew Jones.
The Waters of Eternity includes six short stories of Arabian fantasy, including "Sight of Vengeance" (BG 10), which brings our heroes face to face with a supernatural horror while searching for a killer in the heart of ancient Baghdad.
Venture into the time of the Arabian Nights with stalwart Captain Asim and the brilliant Dabir as they hunt an unseen killer that craves only the eyes of his victims, and pursue a dark entity haunting the halls of an opulent mansion. Ride with them on a desperate journey to preserve a terrible weapon from Byzantine agents, and seek the waters of eternity to save a dying girl's life. In six tales brimming with mystery and sword-slinging action Dabir and Asim stride forward into adventure. With nothing to shield them but Asim's sword arm and Dabir's wit, the two heroes must unravel sinister puzzles, confront dark wizards, rescue fair maidens, and battle the terrifying monsters of legend.
The Waters of Eternity was published by Macmillan in a Kindle Edition on November 22. It is available for $2.99 from Amazon.com, iBooks, and Barnes & Noble. The cover art is by Ervin Serrano.
This is excellent stuff… mysteries surrounded by magic… in the grand tradition of high adventure, Arabian Nights, and Sherlock Holmes. These are unique, clever and well-written little gems.

Joe Bonadonna, author of Mad Shadows
If you're a fan of adventure fantasy, you owe it to yourself to check it out.