Nude Barbarian, Descending a Staircase
Nude Barbarian, Descending a Staircase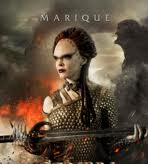 I'm planning a more lengthy post on the role of religion and spirituality in fantasy (expanding on some things I hinted at in my last post, which involved orc samurai), but the last couple weeks have been so crammed with lounging on beaches, jujitsu, and job hunting that I haven't had the opportunity to give it the work it deserves.  So, instead, I present:
10 Ways Conan the Barbarian (2011 Edition) Could Have Been a Great Movie
1.) Lose the horse-back chase through the woods. If I saw it in both Willow and First Knight, I don't need to see it in my blood-soaked barbarian epic.
2.) Make Marique the main villain. Rose McGowan's performance as Queen Amidala's evil twin was nearly my favorite part of the film, and with a few critical changes to the plot, she could have been a really memorable sorceress. To start with, give her and her father different motivations. Make her father an almost sympathetic character who wants to use the mask just long enough to resurrect his wife, then break it once more and scatter the pieces. Then, during the climactic sacrifice scene, she can betray her father, claw the mask off his face, and open a portal into Hell to summon some truly sick demons for Conan to battle through.
3.) On the subject of truly sick demons, those sand monsters were lame. Instead, have Conan meet the villains among some ancient tombs, and have Marique whip out some necromancy or something. I mean, which is better: Conan versus a bunch of dudes who happen to be made of dust, or Conan versus an army of reeking tomb-lords and their skeletal retinues?
4.) Give Tamara an actual character. I have no doubt Rachel Nichols is perfectly talented, but she was dull as toast in this movie.
5.) The first twenty minutes, in Cimmeria, were good partly because they took place in a particular place, at a particular time. The rest of the movie takes place. . .nowhere in particular. We have a forest, a monastery, a beach or two, a dark citadel, a skull-cave, and an evil fortress. Somewhere in the middle of that is, apparently, a City of Thieves. It's not clear how all these elements co-exist in what appears to be extremely close proximity. If I'm remembering right, Conan gets between them in almost no time. Instead, pick a setting and stick with it (and hopefully make it cooler than a generic fantasyland dotted with dungeons and villages). Make Zym's fortress an ancient stronghold on a storm-battered coast, or a ziggurat of dark powers in a purple desert, and design the surrounding locales accordingly. This could probably furnish settings for better action scenes than the rather pedestrian ship-borne encounter.
6.) Lose Conan's Merry Men after the first scene. They left less of an impression than Subodai did thirty years ago.
7.) Also, have the climax take place in the same evil fortress where Conan battles the tentacled horror. It was a great fight, and I recommend keeping it, but it was jarring and outright weird for Conan to climb to the top of the evil tower, look out to the horizon, and realize that his princess was in another castle. The change of scenery was anticlimactic and pointless.
8.) Speaking of pointless, the "father's sword" subplot worked in the Arnold version, but felt out of place in this movie.
9.) Give Zym some cooler minions, maybe something more in keeping with the necromancy theme. How about some soulless clay warriors backing up his ragtag conscripts? Also, we see some elephants hauling his ship-shape palanquin around. Have Conan tangle with one of those. If Tony Jaa could do it, Jason Momoa could at least give it a shot.
10.) Kill off Tamara. Ideally, have her infested by the black spirit of Marique's mother, and force Conan to strike her down with his own hand. It would be a little grim, sure, but not more grim than twelve year-old Conan cracking heads, and the tragic pay-off would have been much better than the quick "kiss the girl then ride into the sunset" ending we got.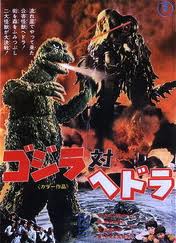 I can't say I hated it, but it's the kind of movie I kept trying to re-write as I watched it.  Next time, I'll either actually blog about religion in fantasy, or I'll apply my critical scrutiny to another coulda-been-a-contender flick: Godzilla vs. the Smog Monster.
Later, space cowboys!