Art of the Genre: The Critical Hit Update
Art of the Genre: The Critical Hit Update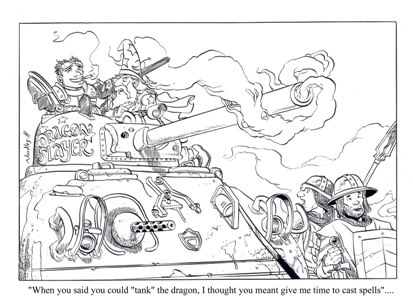 Well now, I'm making this special appearance because I promised Zachary, who I haven't seen in some time actually, that I'd post up news on The Critical Hit. News, you see, has finally happened, although it all seems very mixed at the moment.
A few months back, after posting several comics here in Black Gate, Jeff Laubenstein and I sold our comic, The Critical Hit, to Wizards of the Coast for a new website comic launch they were going with this summer. It was a kind of veneration to the old Dragonmirth comics found in the back of Dragon Magazines, so I thought The Critical Hit fit very nicely with that concept. So did Jon Schindehette the Creative Director at Wizards, and so Black Gate's loss was to be Wizards gain.
Today, Friday the 8th, the test of The Critical Hit went live over at the Wizards D&D website so I hope that all of you who enjoyed the few comics I posted here will journey on over and take a look at it here. We've been getting beaten up a bit in the comments section, so if you do like the piece and would like to see it continue, please sign in and comment yourself. Otherwise, I guess I won't see you in the funny papers!