The Year's Best SF & Fantasy 2011, edited by Rich Horton
The Year's Best SF & Fantasy 2011, edited by Rich Horton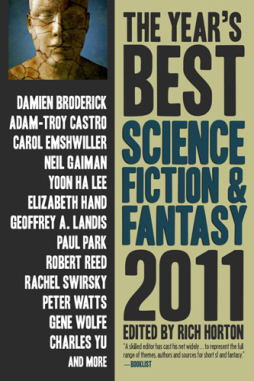 The third volume of Rich Horton's Year's Best Science Fiction and Fantasy (Prime Books), my favorite annual Year's Best collection, shipped in early June, and my copy finally arrived last week. Imagine my surprise to find this on the dedication page:
For two editors who got me started on the route to putting together these books: Dave Truesdale and John O'Neill.
You don't have to imagine how honored I feel, because I can tell you that right now: pretty damn honored. I've been publishing Rich's excellent articles and reviews since the early days of the SF Site, shortly after he was introduced to me by, yes, Dave Truesdale, who was publishing his short fiction reviews at Tangent. Thanks, Rich. And thanks, Dave.  Owe you one.
As for the book, it's excellent as always. This year it features thirty stories that showcase the very best in contemporary SF and fantasy, from the finest writers in the field: Gene Wolfe, Robert Reed, Paul Park, Carol Emshwiller, and many others. In fact, this year's volume is even more awesome than usual, as it features "The Word of Azrael" from BG 14, by our very own Matthew David Surridge, as well as "Braiding the Ghosts" (from Clockwork Phoenix 3) by our website editor C.S.E. Cooney.
C.S.E. had a particularly good year last year, in fact: two additional tales made Rich's Recommended Reading list, including "Household Spirits" (from Strange Horizons; read the complete story here) and her novella The Big Bah-Ha (from Drollerie Press), alongside Robert J. Howe's novella from BG 14, "The Natural History of Calamity." We covered the 2009 edition of Year's Best SF & Fantasy here.
Congratulations to all the contributors, and to Rich on another superb volume. If you're looking for one book this year to point you to the cream of the crop in modern SF & fantasy, this is the one.