July/August Fantasy & Science Fiction Magazine Now on Sale
July/August Fantasy & Science Fiction Magazine Now on Sale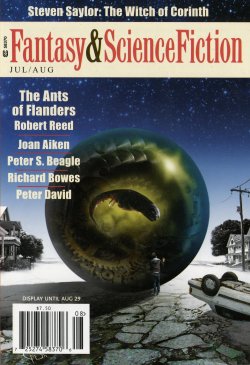 The May/June double issue of Fantasy & Science Fiction went on sale June 28.
Robert Reed, one of the most prolific and impressive contributors to F&SF over the past decade, has the cover story this issue: a big new novella titled "The Ants of Flanders." Novelets are Peter David's "Bronsky's Dates with Death," Steven Saylor's "The Witch of Corinth," and KJ Kabza's "The Ramshead Algorithm."
Short stories this issues are "The Way it Works Out and All," by Peter S. Beagle, "Less Stately Mansions," by Rob Chilson, "Hair" by Joan Aiken, "Sir Morgravain Speaks of Night Dragons and Other Things," by Richard Bowes, and "Someone Like You," by Michael Alexander.
Plus the regular departments, including Charles de Lint's column "Books to Look For," book reviews by Elizabeth Hand, "Plumage From Pegasus: A Short History of the ETEWAF Revolution," by Paul Di Filippo, "Films: Free Will Hunting," by Lucius Shepard, and "Science: Pattern Recognition, Randomness, and Roshambo," by Paul Doherty & Pat Murphy.
F&SF is published six times a year; issues are 258 pages.  It is the longest-running professional fantasy magazine in the country, and has been published continuously since 1949.
The cover price is $7.50. The magazine's website, where you can order subscriptions and browse their blog, is at www.sfsite.com/fsf/.
F&SF is edited by Gordon van Gelder. The cover this issue is by Maurizio Manzieri. We covered the May/June issue here.