May/June Fantasy & Science Fiction Magazine Now on Sale
May/June Fantasy & Science Fiction Magazine Now on Sale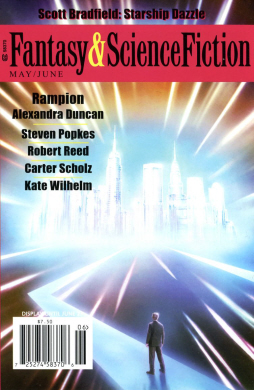 The May/June double issue of Fantasy & Science Fiction goes on sale today.
Editor Gordon van Gelder tells us:
It's pretty rare for us to have a family reunion in F&SF, but this issue has a piece about reuniting with one of our founding editors. (Our next issue will actually have a story starring another one of our editors.) There's a lot of music in this issue, several strange forms of life, and a talking dog. Another can't miss issue, in other words.
This issue features the novella "Rampion" by Alexandra Duncan, and two novelets: "Black Mountain" by Albert E. Cowdrey, and "Music Makers" by Kate Wilhelm, plus short stories by Chet Williamson, Steven Popkes, Don Webb, Carter Scholz, Scott Bradfield, S. L. Gilbow, Ken Liu, and two (!) by Robert Reed.
The Special Feature this issue is "Jesse Francis McComas: The Traveller Returns" by Maria E. Alonzo. The issue also contains an editorial by Gordon Van Gelder, book columns by Charles de Lint and Chris Moriarty, "Plumage From Pegasus: Building a Readership" by Paul Di Filippo, a film column by Kathi Maio, and a Curiosities column by the late F. Gwynplaine MacIntyre.
F&SF is published six times a year; issues are a generous 258 pages.  It is the longest-running professional fantasy magazine in the country, and has been published continuously since 1949. It is a great way to sample some of the fast-rising new names in fantasy.
The cover price is $7.50; one year-subscriptions are a bargain at $34.97, and include the giant October/November anniversary issue. You can order subscriptions and browse their blog at www.sfsite.com/fsf/.
The cover this issue is by Tomislav Tikulin. We covered the March/April issue here.