Tangent Online reviews Matthew David Surridge's "The Word of Azrael"
Tangent Online reviews Matthew David Surridge's "The Word of Azrael"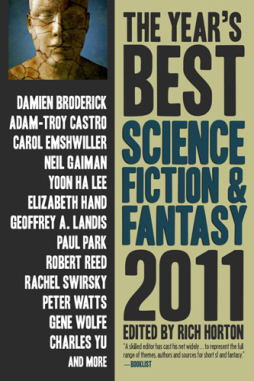 Reviewer Nader Elhefnawy at Tangent Online offers a detailed review of the latest volume of Rich Horton's The Year's Best Science Fiction and Fantasy 2011, including Matthew David Surridge's story from Black Gate 14, "The Word of Azrael."
In Matthew David Surridge's "The Word of Azrael" (which first appeared in the Winter issue of Black Gate magazine, an excerpt of which can be read on the magazine's web site), warrior Isrohim Vey encounters the Angel of Death on the battlefield. Having seen the Angel's smile once, he spends the rest of his life pursuing another glimpse of it – a colorful, wide-ranging, action- and adventure-filled epic journey in the tradition of Conan the Cimmerian and Elric of Melnibone. The resulting piece is one of the strongest heroic fantasies I have seen in years.
Fine praise indeed, for a terrific story that's been one of the most acclaimed pieces we've published in recent years.
You can read the excerpt from "The Word of Azrael" here, and the complete Black Gate 14 Table of Contents is here.
And you can read more about Rich's excellent The Year's Best Science Fiction and Fantasy 2011 here.