The Strange Affair of Spring Heeled Jack wins Philip K. Dick Award
The Strange Affair of Spring Heeled Jack wins Philip K. Dick Award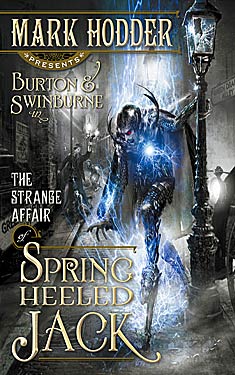 Notch up another win for Pyr Books excellent 2010 line up. The Philadelphia Science Fiction Society and the Philip K. Dick Trust announced on Friday that the winner of the 2011 Philip K. Dick Award is The Strange Affair of Spring Heeled Jack by Mark Hodder, published by Pyr in September of last year.
We reported the complete list of nominees in January.
The Philip K. Dick Award is presented each year to "the distinguished science fiction published in paperback original form in the United States." Previous winners have included C. L. Anderson, James P. Blaylock, Pat Murphy, Stephen Baxter, Carol Emshwiller and Richard Morgan. The judges for 2010 were William Barton, Andy Duncan (chair), Bruce McAllister, Melinda Snodgrass, and David Walton.
The Strange Affair of Spring Heeled Jack is Mark Hodder's first novel. The sequel, The Clockwork Man Of Trafalgar Square, also featuring Burton and Swinburne, is the second installment of a three-volume story arc and was published by Pyr on March 22.
The PKD Trust also awarded a special citation this year to the novel Harmony, by Project Itoh, translated by Alexander O. Smith and published by Haikasoru.
Congratulations to the winners!