Vintage Treasures: Science Fiction in the Golden Age
Vintage Treasures: Science Fiction in the Golden Age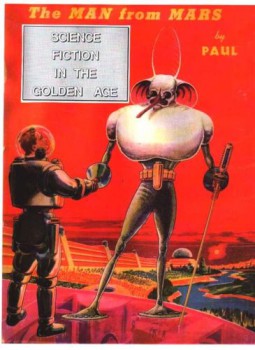 James Van Hise, renowned comic and pulp expert and editor of The Rocket's Blast ComicCollector magazine, has compiled a terrific collection of non-fiction articles from the dawn of the science fiction pulp era.
Science Fiction in the Golden Age arrived in the mail a week ago, and I've been mesmerized by it ever since. It gathers articles, letters, interviews, advertisements and artwork that appeared in pulps, fanzines and other sources between 1908 and 1955, including a H. G. Wells piece in a 1908 issue of Cosmopolitan speculating about life on Mars – with four illustrations, all reproduced here in color – a 1938 report on John W. Campbell's plans as the new editor of Astounding Science Fiction, a review of E.E. "Doc" Smith's Galactic Patrol from 1950,  a report from "Inside the Graf Zeppelin" from Science & Invention (1929), and a lot more.
Authors include Hugo Gernsback, Leigh Brackett, Edgar Rice Burroughs, Thomas Sheridan, and Ray Bradbury, and the vintage art from pulps and fan magazines includes classic work by Frank R. Paul and others, as well as unused art intended for the first edition of The Skylark of Space. I particularly enjoyed the house ads for magazines and novels, including Amazing Stories and Otis Adelbert Kline's The Planet of Peril.
This is clearly a labor of love from someone who spent years reading and gathering literary gems and curiosities from some extremely rare sources, including Air Wonder Stories, Fantastic Adventures, Scientifiction, Fantasy Review, Boys Magazine, Writers Digest, Fantasy Advertiser, and many other pulps and fanzines. The only criticism I have is that the page numbers in the TOC are rather useless, given that most of the magazine isn't paginated.
Science Fiction in the Golden Age is the first in a planned series, although since this one came out in May 2005 and no new volumes have followed, I'm not sure about the state of those plans. Volume One is 160 pages, 8 1/2 x 11 (side-stapled) with full color front and back covers by Frank R. Paul. I bought mine from the author on eBay for $20; additional copies are still available.