Coming Soon — Black Gate 15!
Coming Soon — Black Gate 15!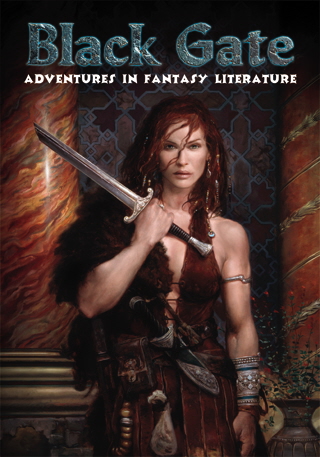 Team Black Gate has been putting in a lot of overtime, and we're just about ready to pull back the veil on our latest production. Black Gate 15 is another massive issue, with over 350 pages of fiction, reviews, and articles.  It contains 22 stories — more than any issue in our history — totaling over 150,000 words of adventure fantasy.
Jonathan L. Howard returns to our pages with "The Shuttered Temple," the sequel to "The Beautiful Corridor" from Black Gate 13, in which the resourceful thief Kyth must penetrate the secrets of a mysterious and very lethal temple.  Howard Andrew Jones bring us another swashbucking tale of Arabian fantasy featuring Dabir & Asim, this time a lengthy excerpt from his blockbuster novel The Desert of Souls.
Harry Connolly returns after too long an absence with "Eating Venom," in which a desperate soldier faces a basilisk's poison — and the treachery it brings. John C. Hocking kicks off a terrific  new sword & sorcery series with "A River Through Darkness & Light," featuring a dedicated Archivist who leads a small band into a deadly desert tomb, and John Fultz shares the twisted fate of a thief who dares fantastic dangers to steal rare spirits indeed in "The Vintages of Dream."
Plus fiction from Vaughn Heppner, Darrell Schweitzer, Jamie McEwan, Michael Livingston, Frederic S. Durbin, Chris Willrich, Fraser Ronald, Maria Snyder, Brian Dolton, and many others.
In our generous non-fiction section, Mike Resnick educates us on the best in black & white fantasy cinema, Bud Webster turns his attention to the brilliant Tom Reamy in his Who? column on 20th Century fantasy authors, Scott Taylor challenges ten famous fantasy artists to share their vision of a single character in Art Evolution, and Rich Horton looks at the finest fantasy anthologies of the last 25 years. Plus over 30 pages of book, game, and DVD reviews, edited by Bill Ward, Howard Andrew Jones, and Andrew Zimmerman Jones — and a brand new Knights of the Dinner Table strip.
Black Gate 15 will be on sale next month. We'll have a detailed sneak peek, with tantalizing story excerpts and artwork, right here in a few weeks. Stay tuned.
Cover art by Donato Giancola.