Short Fiction Roundup: This Just In
Short Fiction Roundup: This Just In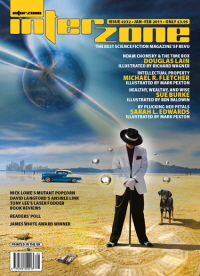 The new Interzone has a refreshing look after last year's garish series of yellow and redish installments. Haven't had a chance to more than glance at the contents, but any story called "Noam Chomsky and the Time Box" sounds like my sort of fare.  Here's a synopsis:
If anyone needed more proof that the gadget driven marketing scam that was the American Empire is now completely dead, the utter failure to adequately create demand for the world's first personal time machine should suffice as proof. Nintendo, Time Warner, and Apple computers have all backed off their various offers to buy out Time Box incorporated, and while last year it seemed impossible that the product might suffer the same fate as Betamax and electric cars, a year later it's becoming obvious that people without a history or a future are uninterested in the kind of time travel the Box offers. The public seems content to leave history to the necrophiliacs and Civil War Buffs.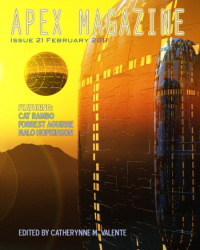 In addition to this Douglas Lain penned tale, there are stories by Michael R. Fletcher, Sue Burke and Sarah L. Edwards, as well as the 2010 James White Award winning "Flock, Shoal, Herd" by James Bloomer.
The latest issue of Apex Magazine features fiction from Cat Rambo, Forrest Aguirre and Nalo Hopkinson.  According to the publisher,
"This issue marks the second issue following our new distribution model. In short, we wanted to give a premium to those who subscribe digitally and/or purchase each issue by making the content available to them one month prior to its release on our website. This means that full text of the stories and poetry will be available the first Monday of March right here, along with sneak peeks of this issue's contents."