Last Chance to Win a Copy of Terror in the House: The Early Kuttner, Volume One
Last Chance to Win a Copy of Terror in the House: The Early Kuttner, Volume One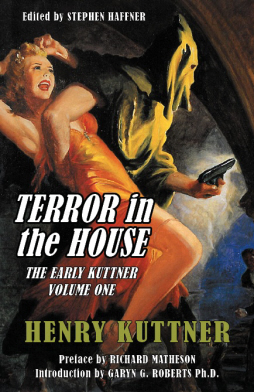 Three week ago we announced we were giving away three copies of the first volume of The Early Kuttner, titled Terror in the House, newly released from Haffner Press.
How do you win a copy? Just send an e-mail to john@blackgate.com with the title "Kuttner Contest," and a one-sentence review of your favorite Henry Kuttner short story. And don't forget to mention what story you're reviewing!
That's it.  Three winners will be drawn at random from all qualifying entries, and we'll publish the best reviews here on the Black Gate blog.
But time is running out — the contest closes on December 1. Because if these things are still piled on top of Alice's sewing table after that, believe me, there will be hell to pay.
Haffner's archival-quality hardcovers are some of the most collectible books in the genre. Terror in the House is 712 pages in hardcover, with a preface by Richard Matheson and introduction by Garyn G. Roberts, Ph.D. It is edited by Stephen Haffner and illustrated by Harry V. Parkhurst, and has a retail price of $40.
All entries become the property of New Epoch Press. No purchase necessary. Must be 12 or older. Decisions of the judges (capricious as they may be) are final. Not valid where prohibited by law. Terms and conditions subject to change as our lawyers sober up and get back to us. Eat your vegetables.