Sword & Sorcery is Alive and Well at Pyr
Sword & Sorcery is Alive and Well at Pyr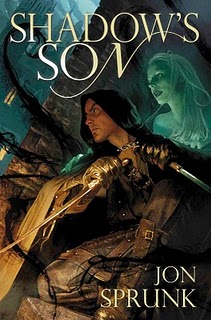 Well, I'm back from Dragon*Con, and my head is still spinning. It would take me weeks to jot down even a partial record of all the events we attended and the great people we met (not to mention the jaw-dropping costumes I was constantly gawking at) — so I think I'll leave that to Howard, who's already posted Part I of a splendid con report.
Instead, I'm going to hit the highlights.  The best event we attended at the convention, bar none, was the Pyr Books, a New Voice in Publishing panel, hosted by publisher Lou Anders and attended by Pyr authors Clay & Susan Griffith, Erin Hoffman, Andrew Mayer, Ari Marmell, Mike Resnick, Jon Sprunk, Sam Sykes, and the amazingly cool James Enge.
Why was it so great? Lou highlighted the terrific titles Pyr will be publishing over the next six months in a fast-paced and entertaining slide show, and each of the authors chimed in at appropriate moments to tell us a little more about their books. It was a great way to get introduced to an entire line in under an hour.
And what a line. I haven't been this intrigued by so many books from a single publisher in a long time.
I keep telling people that Black Gate is not just about Sword & Sorcery, and that I buy a wide range of fiction for the magazine, but I have to admit that many of the titles that really grabbed my attention were S&S.  And as Lou made clear, "Sword & Sorcery is Alive and Well at Pyr."
Pyr's future titles will include The Wolf Age by our own James Enge, the sequel to his World Fantasy Award-nominated Blood of Ambrose, featuring his character Morlock the Maker.  I was also struck by Salute the Dark, the latest in the Shadows of the Apt series by Adrian Tchaikovsky — how did I miss this one for so long? — and the upcoming Vampire Empire novels by Clay and Susan Griffith. I was also intrigued by both Ari Marmell's Household Gods and Andrew Mayer's The Society of Steam.
In terms of books I could lay my hands on now, I was immediately drawn to Jasper Kent's Twelve, a vampire novel set in war-torn Russia during Napoleon's invasion in 1812, and Matthew Sturges The Office of Shadow, the sequel to Midwinter, and bought them both as soon as I could dash to the Pyr booth the next morning. I also grabbed the steampunkishly beautiful The Strange Affair of Spring Heeled Jack by Mark Hodder, and Sam Sykes' gleefully violent and funny Tome of the Undergates.
Perhaps the most enticing title in the entire lot was Shadow's Son by Jon Sprunk, a very promising S&S tale of urban treachery, dark sorcery, and a resourceful thief with a ghost girlfriend.  Both Howard and I put that one on top of our to-read pile.
Lou Anders writes in detail about many of these titles, and several others just as intriguing, at his Pyr-o-mania blog post Sometimes You Really Want to Take a Sword to Someone.
If you're a fan of Sword & Sorcery — or just great fantasy — check them out, and support one of the most exciting publishers in the business.