Dragon*Con Report Part 1
Dragon*Con Report Part 1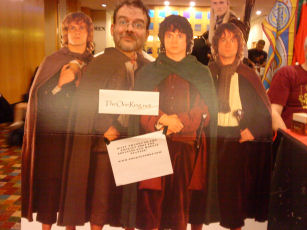 Those of you who've never attended a convention, let alone Dragon*Con, might wonder what the purpose of one is, and what they are like. I used to wonder what all the fuss was over myself, so I thought I'd provide a quick primer for the uninitiated. Attending a fantasy or science fiction convention is an excellent opportunity to mingle with other people who enjoy the same things you do, to interact with the creators of the kinds of work you love, and to meet with the people who edit and publish that work. Sometimes it's a chance to obtain reproductions of that work, or images from it, or objects based on props from said work. Conventions are also a fabulous chance to network with peers and publishers who might or might not know your own work, although I never advise cornering an editor for twenty minutes of unbroken narrative to pitch any novel, especially one that you haven't written yet.
But as to what a convention is like, they're all different. World Fantasy Con, which Black Gate will be attending in force near the end of October, tends to be somewhat intimate, and fairly sober – at least during the day. Dragon*Con, well… I think Lou Anders of Pyr described it quite well in a post earlier today when he said it was like Mardi Gras on Middle-Earth. There are so many different lines of programming that Dragon*Con requires five immense hotels to provide space for them all, and so many attendees that they can't fit into even those – there are at least five overflow hotels in addition to those with events. There seem to have been something in the area of 68,000 people attending this year. You could field a whole lot of Roman legions with all of those people, though you probably wouldn't want to.
When I say "Lines of Programming" I mean different kinds of panels and events. There are so many special guests and panels to attend you can go to Dragon*Con with ten of your friends and each have entirely different, and interesting, experiences. If you want, you can go to nothing but writing panels and learn publishing secrets. You can go to media panels where movie, TV, or comic stars discuss what it was/is like working on their show. You can go to the art show and peruse the graphic arts, or maybe buy some, or go on the gaming track, or see a huge selection of independent films. There were two halls of exhibitors and one dealer room and even though I toured through all three I'm sure I didn't see every product. Strolling through all of it are folk in costume. Some of those costumes are simple affairs, or store bought. Some are hand-crafted works of exquisite art. Some of them will sear your mind in wonder, although not always the good kind.
Into this we of Black Gate wandered, and I'll provide a detailed account of what we saw and who we met before the end of the week.