A slash version of Charlies Angels: A review of Bitch Slap
A slash version of Charlies Angels: A review of Bitch Slap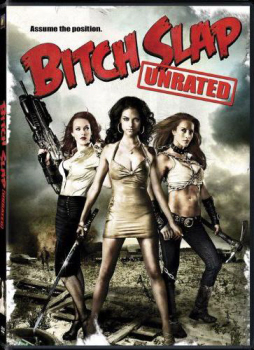 Bitch Slap the (unrated) film relates to fantasy fiction how, you may ask?
The cast includes Lucy Lawless (Xena), Kevin Sorbo and Michael Hurst (Hercules).  Fictionmags chum and fantasy novelist Damien Broderick passed along the intelligence back in December '08 that the husband of a friend of his had a hand in making the film. Don't know if it ever made the theaters, but it's now out on DVD.
The box art has the three generously proportioned leading ladies in costume: short spandex gold-lame dress/black skirt & fishnets/low-rise jeans, stage-center. Hey, what's not to like going in? Most of the viewer reviews on Netflix and Blockbuster panned it. The remaining 10% seemed to really like it.
I confess I liked it. It's intentionally trashy, but it seems we haven't had a good trashy girl-fight film since Faster Pussycat, Kill Kill.
Australian Shakespearian actor Michael Hurst is Gage, a scumbag dealer in high-priced stolen goods who has acquired at least one item of interest to each of the three kick-ass babes who, early in the film, get very medieval on him.
Camero (America Olivo), a pill-popper with attitude, is after a bag of diamonds Gage lifted from her after her cover as a nun is blown by mother superior (Lucy Lawless) and novice nun (Renee O'Connor). Hel (Erin Cummings — seen most recently as Spartacus' wife 'Sura' on Spartacus: Blood and Sand), a lesbian femme with attitude, is a covert  agent working under "Phoenix" (Kevin Sorbo) to recover a high-tech weapon stolen by Gage, while appearing to help Camero recover the jewels.
She's brought along her hot stripper lesbian girlfriend Trixie (Julia Voth) mostly, she thinks, for diversion. Trixie, however, is more than she appears and has, unbeknownst to the others, a shopping list of her own.
Everyone seems to be in great fear of a super-ninja named "Pinky" catching up to them. While the back-story is told in intermittant flashbacks, the up-front action takes place in the middle of the Arizona desert at Gage's hide-out. Things get messy for everyone after the girls dispatch Gage and start digging for the diamonds; first finding Phoenix's remains in the front yard and then having two unpleasant people, one-eyed punk with Tourette's, Hot Wire (William Gregory Lee), and psycho ninja chick, Kinki (Minae Noji), from their recent past show up for a piece of the action.
A clueless local Sheriff, who barely survives the dustup in which Hot Wire and Kinki go down, joins them. In the process Hel and Camero's increasing distrust of each other explodes into several extended, down and dirty catfights. Remarkably, these two women, while beating the crap out of each other, lose very little clothing doing so. It's definitely a bad hair day for all of the girls.
The women are over-the-top eye candy and the violence, intentionally and shamelessly, gratuitous. Bitch Slap is what you might have doing a slash version of Charlies Angels, without Charlie, out to beat both the crooks and the law.
The DVD has separate full-length commentaries by both the actresses and the producer/directors along with several "making of" shorts, all of which make for entertaining and edifying re-watches of the film. One might watch the film again just for the girls, but a re-watch also helps clarify the relation of the backstory flashbacks to the up-front action.  Two stars for coherence, three and a half stars for the action and five stars for the ladies. Three and a half stars overall.
Bitch Slap is sort of a reunion for various of those involved in the Hercules and Xena TV series, having a romp doing things one isn't allowed to do on network TV. There's a rumor that there may be a Bitch Slap 2 in the works.
---
George R. Morgan has been a fan of Science Fiction and SF art since 1952. A renowned collector, he's built a complete run of all major and most minor U.S. science fiction magazines since 1926.