Short Fiction Roundup: The Year's Best
Short Fiction Roundup: The Year's Best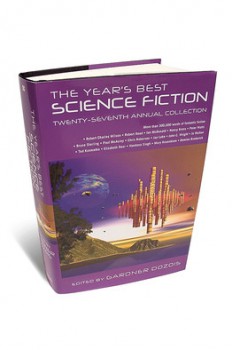 Over at The Wall Street Journal, Martin Wooster has reviewed this year's annual of Gardner Dozois picks so I don't have to. What's particularly interesting about this review is the contention that while most short fiction today is the output of navel gazing MFA candidates (and could not be possibly of interest to normal folks, like those who read The Wall Street Journal), genre magazines still publish quality traditional plot-driven stories once characteristic of mass circulation magazines that have long ago succumbed to short-attention reader spans and market vicissitudes.
As it happens, I stopped reading Asimov's, which Dozois formerly edited, because I was coming across too many traditional plot-driven hard SF tales that are okay once in awhile, but, for my tastes, make for a kind of bland diet.  For largely the same reason, as well as for lack of time, I've become less obsessed with studying every iteration of The Year's Best Science Fiction, though Wooster's review may make me reconsider (even the ones he doesn't like sound intriguing too me).  But as for whether genre magazines are the only home of short fiction that isn't willfully obtuse in focusing on obsessions that matter only to a self-conscious elite (a charge frequently made of genre's pulp forebears, funnily enough), I don't know.
It's been awhile since I've read much from the so-called literary magazines, and I probably haven't read enough of them to know if this is more canard than truism.  I did use to get Glimmer Magazine, which, if I recall correctly, was the first place where I read anything by Junot Diaz, who wrote The Brief Wondrous Life of Oscar Wao.
Depending on what you thought of that book may either prove or disprove Wooster's point.