Bram Stoker's Dracula in Comics, Part One – The Novel Adaptations
Bram Stoker's Dracula in Comics, Part One – The Novel Adaptations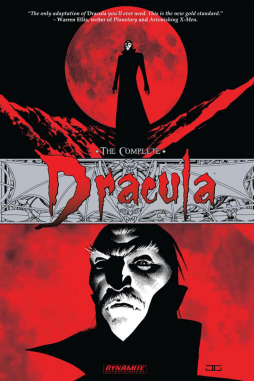 While Bram Stoker's infamous vampire count has been prevalent in comic books whenever the prevailing bluenoses of each generation have deigned to allow horror books to be printed, there have been surprisingly few attempts to faithfully adapt the classic novel in comic book form.
Classics Illustrated tackled the book shortly before Dr. Frederick Wertham got his dirty little hands on the comic business and did his best to keep the children of the world safe from twisted people just like himself. The Classics Illustrated adaptation was professionally produced, if somewhat anemic.
Marvel Comics would later reprint it in the 1970s with new cover art to make it appear consistent with Gene Colan's magnificent portrayal of the character for Marvel's long-running Tomb of Dracula title. Happily, a superior adaptation was brewing in Marvel's companion magazine, Dracula Lives.
Roy Thomas and Dick Giordano teamed up to provide a faithful, elegant, and leisurely-paced adaptation of the Stoker novel as an ongoing feature in the black & white comic magazine.
Unfortunately, sales were not on their side and the title was cancelled. The one unpublished chapter they had completed turned up in the pages of another magazine title, Legion of Monsters, before it too was cancelled. Their masterful adaptation was left incomplete for nearly thirty years.
Marvel's magazine division was a direct response to the success of Warren Publications such as Eerie, Creepy, and Vampirella.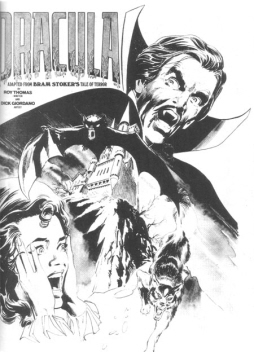 It was Creepy that brought Fernando Fernandez's stylish Spanish adaptation of Stoker's novel to a larger audience worldwide. Fernandez's art is far more sophisticated and accomplished than what is usually seen in the United States.
Sadly, the English translation was not as skillfully handled with jarring typos, missing words, and awkward sentences somewhat lessening the impact of Fernandez's work outside of his native Spain.
Roy Thomas and Mike Mignola would tackle the comic adaptation of Francis Ford Coppola's 1992 film, Bram Stoker's Dracula for Topps' short-lived comics division.
For those unfamiliar with the film, the title is misleading. The result is more of a mix of the 1960s American vampire soap opera, Dark Shadows with ITV's contemporaneous revisionist television adaptation of Stoker's novel, with Denholm Elliott wearing eyeglasses straight out of swinging Carnaby Street (Gary Oldman's vampire count just seemed even more alien for donning nearly identical eyewear a quarter of a century later in the Coppola film).
Happily, Roy Thomas wasn't satisfied to let the nineties Hollywood remake stand as his final word on the character. Vertigo considered buying the rights to the existing chapters from Marvel and letting Thomas and Giordano complete their adaptation at last, but the plans fell through.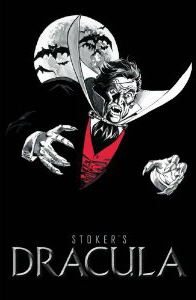 Ultimately, Marvel came round after they discovered quite unexpectedly that reprints of Tomb of Dracula were selling as well as or better than many of their current publications. The offer came for Thomas and Giordano to finish what they started three decades before.
Stoker's Dracula, as the resulting limited series and graphic novel was titled, is still not quite as perfect as it might have been.
It is true that age had lessened Giordano's abilities slightly. Like all artists, his style changed and did not quite match up to the earlier chapters completed in the 1970's. The greatest weakness is the page constraint Marvel imposed on the duo in completing the book.
Thomas and Giordano confirm as much in their notes in the graphic novel. The leisurely pace of the original Dracula Lives chapters allowed for a faithful, measured adaptation. The change in pace midway through the story is jarring as the narrative rushes to a conclusion over the final hundred pages.
Dynamite Entertainment managed the seeming impossible in topping the Marvel adaptation by teaming writers Leah Moore and John Mark Reppion with artist Colton Worley to produce a stunning limited series and graphic novel, The Complete Dracula.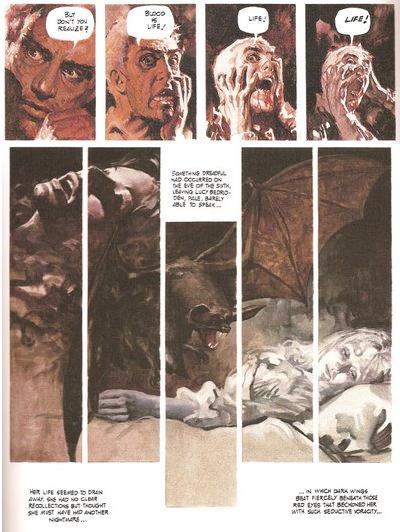 The trio had the advantage of crafting their adaptation over a period of two years as opposed to Thomas and Giordano's three decades.
They were also able to balance the story's pacing throughout and this gives them the advantage that Thomas and Giordano's newly-completed version simply cannot match.
Of course, it is the artwork that matters most in any comic adaptation and Colton Worley delivers sumptuous, photo-realistic pages that manage to trump even Fernando Fernandez.
The art is truly breathtaking and cinematic in its scope. The reader feels they are finally viewing the perfect film adaptation of the Stoker classic.
As a bonus, Dynamite's The Complete Dracula incorporates Stoker's posthumously- published deleted chapter from an early draft of the novel, "Dracula's Guest" as a prologue.
While purists balk when publishers do this with print versions, the story conforms to the novel's continuity more often than it strays.
The novel itself is far from free of inconsistencies, which lends no credence to those scholars who would see the fragment banished for not being canonical.
Marvel continues to repackage Tomb of Dracula reprints in every possible format while failing to bottle lightning in their many attempts to revive the property. Most recently, they undertook the decision to color the Thomas-Giordano adaptation and reprint it as a limited series and forthcoming graphic novel.
This is an obvious response to the success of Dynamite's rival full-color adaptation, but it is a solution that does the material no favors.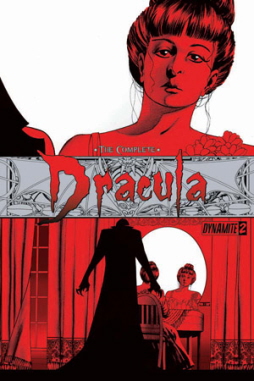 Giordano's artwork was deliberately shaded for monochrome and like the Universal Horror classics of the 1930s and 1940s, the attempt to colorize what was intended to be seen in sharply contrasting shadows and streaks of light appears ordinary and robbed of all of the grace and beauty of the original work. Sadly, another missed opportunity from Marvel.
Future installments in this series will take an in-depth look at Marvel's successes and failures with Stoker's venerable vampire lord and Dark Horse's noble, but unfulfilled attempt to emulate Marvel's success a quarter of a century later by reuniting the creative team that elevated Tomb of Dracula to the pinnacle of comic storytelling and graphic art.
---
William Patrick Maynard was authorized to continue Sax Rohmer's Fu Manchu thrillers beginning with The Terror of Fu Manchu (2009; Black Coat Press). He is currently working on a sequel, The Destiny of Fu Manchu as well as The Occult Case Book of Sherlock Holmes. To see additional articles by William, visit his blog at SetiSays.blogspot.com