Bram Stoker's Dracula in Comics, Part One – The Novel Adaptations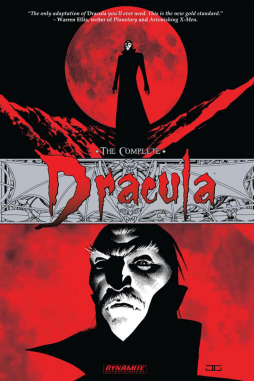 While Bram Stoker's infamous vampire count has been prevalent in comic books whenever the prevailing bluenoses of each generation have deigned to allow horror books to be printed, there have been surprisingly few attempts to faithfully adapt the classic novel in comic book form.
Classics Illustrated tackled the book shortly before Dr. Frederick Wertham got his dirty little hands on the comic business and did his best to keep the children of the world safe from twisted people just like himself. The Classics Illustrated adaptation was professionally produced, if somewhat anemic.
Marvel Comics would later reprint it in the 1970s with new cover art to make it appear consistent with Gene Colan's magnificent portrayal of the character for Marvel's long-running Tomb of Dracula title. Happily, a superior adaptation was brewing in Marvel's companion magazine, Dracula Lives.
Roy Thomas and Dick Giordano teamed up to provide a faithful, elegant, and leisurely-paced adaptation of the Stoker novel as an ongoing feature in the black & white comic magazine.
Unfortunately, sales were not on their side and the title was cancelled. The one unpublished chapter they had completed turned up in the pages of another magazine title, Legion of Monsters, before it too was cancelled. Their masterful adaptation was left incomplete for nearly thirty years.