What Sword and Sorcery Means to Me
What Sword and Sorcery Means to Me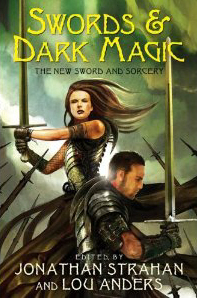 The masterminds at SF Signal have asked the contributors and editors of Swords & Dark Magic: The New Sword & Sorcery — including some of the biggest names in fantasy — to define Sword and Sorcery, as part of their Mind Meld series.
They've published responses from Michael Moorcock, Glen Cook, C.J. Cherryh, James Enge, Lou Anders, Garth Nix, Joe Abercrombie, Bill Willingham, Tanith Lee, Tim Lebbon, and others.
Here's what Moorcock said, in part:
I didn't get this the first time around; I wrote a whole book on supernatural adventure fiction called Wizardry and Wild Romance which still probably didn't answer the question. Basically I see it as a good old-fashioned sword and sandal or cloak and dagger drama with strong supernatural elements. Captain Blood meets Cthulhu. It seems, in fact, to have replaced the old historical melodrama in most of its aspects. Or returned to them if you look at those origins in the late Peninsula Romances which were the big news circa 1450.
You can read the complete article here, and SF Signal's prior article on the best sword and sorcery stories — with lists from Martha Wells, Steven Brust, Brandon Sanderson, Lou Anders, James Enge, Mark Chadbourn, Mercedes Lackey, Mary Robinette Kowal and others — here.