Short Fiction Roundup
Short Fiction Roundup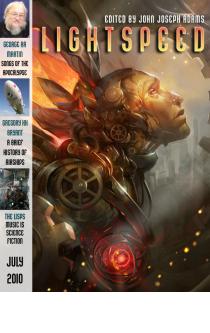 Each week, Lightspeed features a short story from its current magazine, that is otherwise available for a $2.99 PDF download. The current one is "The Zeppelin Conductor Society's Annual Gentleman's Ball" by Genevieve Valentine. Next Tuesday (July 27) it will be "… for a single yesterday" by George R. R. Martin.
Theodora Goss is the new Folkroots editor for Realms of Fantasy.
Here's another take on Gary MacMahon's The Harm, which sees a lot more in it that my own lukewarm review.
The 2009 Shirley Jackson Awards winner in the short story category is "The Pelican Bar" by Karen Joy Fowler (Eclipse 3).  Haven't read it, nor any of the nominees (nor for that matter, any nominees any category, maybe I get out too much):
"The Crevasse," Dale Bailey & Nathan Ballingrud (Lovecraft Unbound)
"Strappado," Laird Barron (Poe)
"Faces," Aimee Bender (The Paris Review, Winter '09)
"The Jacaranda Smile," Gemma Files (Apparitions)
"Procedure in Plain Air," Jonathan Lethem (The New Yorker 10/26/09)