Frank Frazetta enters Valhalla
Frank Frazetta enters Valhalla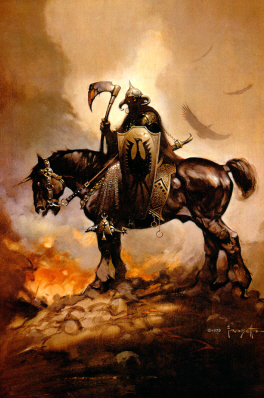 Frank Frazetta, the greatest fantasy artist of his generation, died today at age 82.
Frazetta got his start in comics in the early 1950s, working with legendary artists such as Al Williamson, Roy Krenkel, Al Capp, and Harvey Kurtzman on Buck Rogers, Flash Gordon, and Li'l Abner, as well as many titles at EC Comics.
In 1964 Frazetta did his first movie poster for (of all things) Woody Allen's first film, What's New Pussycat?  This eventually led to cover paintings for some of the most popular paperbacks of the 60s and 70s, most notably the works of Edgar Rice Burroughs, including Tarzan and John Carter of Mars.
For fantasy fans Frazetta is best remembered for his groundbreaking Sword & Sorcery images — such as "Death Dealer" (right), the cover to Lin Carter's 1973 anthology Flashing Swords 2 — and most especially his colorful and visceral depictions of Conan, which revolutionized fantasy art.
Until Frazetta, Conan was primarily depicted as a white, clean-cut warrior in pseudo-roman garb, straight off the set of a Cecil B. DeMille film (see the covers of Robert E. Howard's first Gnome Press editions from the 1950s, such as Conan the Barbarian).
But Frazetta swept away all who had come before, re-envisioning Conan as a muscular, dark-skinned titan, a true barbarian in spirit and appearance. Since Frazetta, in defining work by artists like Ken Kelly, Sanjulian, Barry Windsor Smith, Mark Schultz and Gary Gianni, Conan has been revealed as both heroic and fearful, a thick-sinewed, long-haired mongrel, a truly striking figure in all respects.
Frank Frazetta died at a hospital near his home in the Pocono Mountains of Pennsylvania.
For a sampling of some of his finest work, visit the unofficial Frazetta Fantasy Art Gallery.