GOTH CHICK NEWS: The End of 2009
GOTH CHICK NEWS: The End of 2009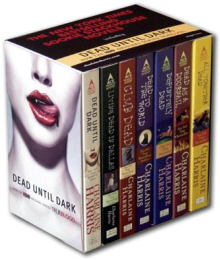 As 2009 comes to an end I find the events of the last twelve months firing past my sub-conscious like the recap sequence before one of those lame "it was all a dream" mini-series endings. 
Unfortunately any list of highlights from 2009, besides proving that reality is far more frightening than fiction, would also be intensely boring.  I'll leave that to CNN and NPR. 
Instead, here are a few random thoughts – on Dacre Stoker's Dracula the Un-Dead,  the Travel Channel's Ghost Adventures show, HBO's True Blood and the new Sookie Stackhouse novel, the upcoming film version of Elizabeth Kostova's The Historian, the return of the Halloween, Costume and Party Show to Chicago, and more.
Dracula the Un-Dead, the sequel to Bram Stoker's Dracula and written by his great-grandnephew did not, as I feared, live up to its predecessor.  It wasn't awful, but it was surprisingly uninspired and worked far too hard to appeal to modern-day audiences, painting Stoker's original characters with a litany of human vices.  Jonathan Harker an embittered alcoholic who visits prostitutes to take his mind off his suspiciously ageless wife.  Mina Harker is obsessed with her "dark prince" to whom she apparently gave her virginity 25 years previous so it's no wonder Jonathan goes trolling. Dr. Seward is a pathetic morphine addict, Arthur Holmwood is a selfish coward and I won't even get into the distracting sub-plots involving Elizabeth Bathory and Jack the Ripper.  Uncle Bram probably isn't rolling over in his grave, but he is likely wishing nephew Dacre Stoker would have stuck to coaching Canadian athletic teams.
We here at Black Gate attracted the attention of the Travel Channel's Ghost Adventures show by mentioning them in a previous blog entry.  Though none of the paranormal "reality" shows have made it into cable TV's top 20 as of yet, Ghost Adventures is starting to pick up steam following their live broadcast with internet viewer interaction on Halloween night.  It's also my four-year-old niece's all time favorite show, which is mildly disturbing in a "chip-off-the-old-block" kind of way.  I'm going to try to score her an autographed picture of the host and lead investigator, Zak Bagans.
Charlaine Harris, author of the Sookie Stackhouse novels which are the basis for the HBO series True Blood stepped in as this year's hostess and grand dame of New Orleans annual Vampire Ball in October, 2009.  This event was a huge tourist draw to the city for the many years it was hosted by Anne Rice who relinquished sponsorship in 2004.  I always felt this was abandoning New Orleans when she was most in need considering hurricane Katrina hit in August, 2005.  As I had the pleasure of meeting Ms. Harris and interviewing her for Black Gate 8, I am thrilled that this quintessential southern lady is lending her support to the ball and hope she continues to host the event in the future.  (Note: the new Sookie novel, Dead in the Family comes out in May, 2010 and the new season of True Blood starts in June, 2010).
And here are a few more things to look forward to in 2010:
February 26, 2010 sees the return of the Halloween, Costume and Party Show to Chicago from a 2-year run in Las Vegas.  Much like Ralphie Parker's feelings about Christmas and his Red Rider BB gun, this is the event around which the entire Goth Chick calendar revolves.  Alas, it isn't open to the public but trust me to bring you every gory detail.  Read the highlights from the 2007 show here.
The Historian by Elizabeth Kostova which I reviewed back in the fall of 2005, finally hits the big screen in 2010.  As one of my favorite books which also inspired my trip to Turkey, I am hopeful that the film adaptation by Sony Pictures and Gladiator producer Doug Wick, will finally bring a good, old fashioned vampire story back to movie theaters; any more Twilight and I'm putting a stake through my own heart.
The spring of 2010 will see the opening of "The Wizarding World of Harry Potter" at Universal Studios in Orlando.  Now before you start making fun of me, let me tell you that until now my main interest in the Universal Studios theme park has been their annual Halloween Horror Nights which is well worth the trip if you've never been.  However, the last two years of this October pilgrimage has allowed me to watch the construction progress on Harry Potter and I have to say I'm totally psyched to visit when it opens.  Fan of the books or not, it looks amazing and doubles your reason to take a trip down there in October.
Here's wishing you and your family a thrilling and adventure-filled 2010!  We have a lot of great things to sink our teeth into.