2007 Halloween, Costume and Party Show and the 12th National Haunt and Attractions Show
2007 Halloween, Costume and Party Show and the 12th National Haunt and Attractions Show
February 23-26, 2007, Rosemont Convention Center, Rosemont, IL
Reviewed by Sue Granquist
Copyright 2007 by New Epoch Press. All rights reserved.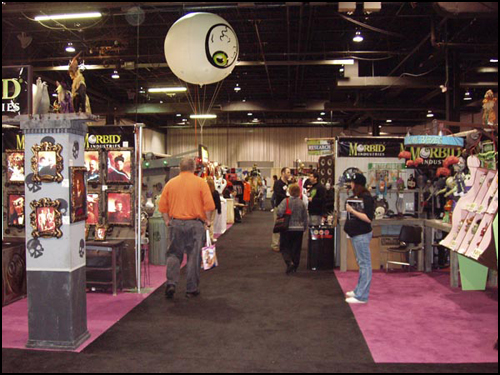 Ever visited a really high-end haunted attraction and wonder where all those blood-soaked fake zombies came from? Or better yet, watch a great horror movie and wonder what the people in charge of the special effects do with their free time?
Being the sort of twisted individual who actually ponders stuff like this, I had the opportunity to attend the holy grail of haunted trade shows and get all the answers. If a goth chick died and went to goth heaven, the Halloween, Costume and Party Show would be precisely what it looked like.
Unfortunately, the HCP Show is a "trade only" event, so you're going to have to take my word for how cool it is — unless you know someone in the business who can get you in. In addition, security is very tight and all attendees are screened to ensure they're really connected with the haunting and Halloween industry. I can assure you this level of screening isn't uncalled for. Were it not for these precautions, every strange person in black clothing and pasty makeup you've ever seen would most assuredly be saving their pennies to fly to Chicago every February. Lucky for me I have Black Gate as my cover and I gleefully waded in.
Imagine two rooms a bit bigger than a football field, filled wall to wall with every bit of Halloween and horror paraphernalia you can possibly think of. There's a company selling nothing but realistic plastic bones — and a large variety of items made out of these plastic bones. The most normal items were skeletons in every size, and most unusual was a chandelier made out of what looked like human remains.
Then there were the "Deady Bears" which were your standard stuffed teddy bear with sick twists… like holding a chainsaw, or chewing on a human body part. Oh, and they each come with their own death certificate.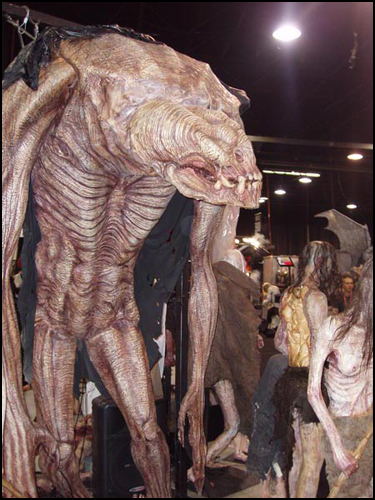 Half of one floor was completely dedicated to very high-quality and extremely expensive animatronics. Most of the companies touting their nauseatingly realistic wares in this area are Hollywood special effects people who have "fun" side businesses, lending their talent to the gross stuff that somehow doesn't fit anywhere in the movies. Here I saw an utterly convincing outhouse, and when you opened the door it appeared that someone had slaughtered a small farm animal inside. An additional feature had water flying out of the toilet right into the unsuspecting faces of visitors.
As you would expect, the current hot movies have a lot of influence on the types of attractions. For instance, I saw several robotic examples of that creepy little girl with the black hair hanging over her eyes from the two Grudge films. However, my personal favorite was a $25,000, eighteen-foot creature that actually strode toward you, supporting itself with two enormous spears upon which were skewered several dead bodies. It was set up in a darkened room and for a second when it came out of the black-lighted corner and lunged toward me, I thought I was going to die. It's rare that I find myself in a position of wanting to mortgage my house, but there I was.
The people you see walking around the show are average for the most part. But what is amazing is meeting a charming old couple who just happen to run their state's "most terrifying haunted house" every Halloween. They come to the show each year to add to the attractions in their collection. Thrilled, they left this year with a remote-control corpse that ran on tank treads. From a distance of 200 feet you can cause the body to suddenly start pulling itself along the ground with its hands, chasing people.
"It'll scare the crap out of the kids," the gentleman told me. You can just never tell about people…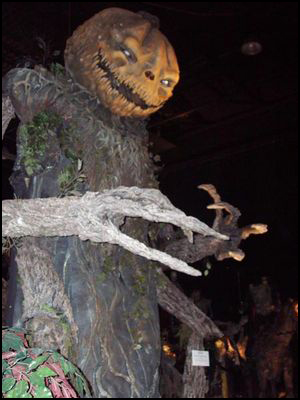 These are some of my personal favorites for 2007. All of these products are available directly to the general public via the web sites shown.
What would any trade show be without a celebrity sighting? I can tell you from personal experience that Dee Snider is a nice regular guy who I really enjoyed chatting with. He was there promoting his rock opera Van Helsing's Curse which he is quick to tell you has nothing at all to do with the movie Van Helsing. Additionally, Butch Patrick (Eddie Munster for those of you old enough to know) is very friendly and I'm proud to hang his signed photo in my office.
Sadly, after seven years in Chicago, the HCP Show is moving to Las Vegas in 2008. But I've already bought my plane tickets.