IMARO: The Naama War by Charles Saunders
IMARO: The Naama War by Charles Saunders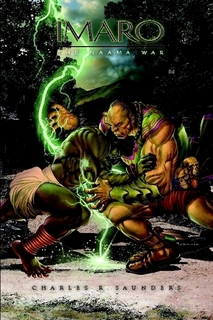 Back when Black Gate's editor John O'Neill lived in Ottawa in the early 80s, he was a member of a small SF fan club.  His first meeting featured a reading from the editor of an excellent local fanzine, Stardock, who had just completed his first novel.  The author was Charles Saunders, the novel was Imaro, and the reading he never forgot.
DAW released the first three Imaro novels between 1981 and 1985, then dropped the series for reasons arising from textbook bad marketing decisions, a lawsuit from the Edgar Rice Burroughs estate over a poorly chosen cover quote ("The Epic Novel of a Black Tarzan"), and publishing delays.
For the whole sordid tale, read Charles de Lint's introduction to the Night Shade edition of the first novel.
Night Shade books released the first two books, Imaro and The Quest for Cush, in handsome new editions in 2006 & 2007, and Saunders self-published the third volume, The Trail of Bohu, through his Sword & Soul Media press last year.
The true tragedy of the saga of Imaro is that the fourth novel has never been published – until now.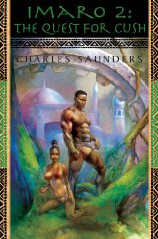 What's so great about the Imaro novels?
Saunders is an underappreciated master of fantasy, mining a setting and, indeed, a genre we haven't seen before. His work is superior to many of those celebrated as pioneers over the last three decades, including Karl Edward Wagner and David Gemmell.
Imaro: The Naama War by Charles Saunders was released today from Lulu Press.
Warfare on a cataclysmic scale is convulsing the continent of Nyumbani from north to south. Soldiers fall. Cities burn. Blood reddens the sea. Sorcery sears the land. Deities gather in opposite dimensions, poised to unleash unimaginable cosmic power on a land already battered by the conflict between the Cushites of the north and the Naamans of the south.

In the midst of this massive struggle, Imaro, warrior of the Ilyassai, wages a personal war against his nemesis, the sorcerer Bohu of Naama. This individual vendetta mirrors the larger clash between the forces of good and evil – a confrontation that threatens to tear Nyumbani apart.

The destiny for which Imaro has been honed like a living weapon now lies directly before him. Imaro vs. Bohu. Cush vs. Naama. War. Magic. Blood. Fire. The losers in this wide-ranging battle for the fate of a continent face oblivion. But the winners will not emerge unscathed.
Available in paperback for $20, this 335-page paperback can be ordered here.