Reading Goals in the New Year
Reading Goals in the New Year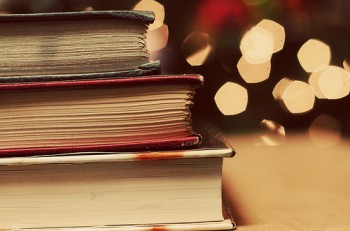 As some of you may know, I've been talking and thinking and blogging (not necessarily in that order) about reading more, and reading better over the course of the last year. Today being New Year's Day, the day of resolutions and goal-setting, I thought I'd link to some of the posts I've written on the subject for those interested in focusing on ratcheting up their reading in the coming year.
Firstly, something of a summary of my reading posts can be found in a three part article that has recently gone up at Grasping For the Wind called 'Ramp Up Your Reading.' In the first part, 'More and Faster' I go over ways to try to get more reading hours shoehorned into the day. In 'Do It Better' I focus more on the quality of one's reading, and how slowing things down can often be a more efficient use of time than trying to skim through a lot of books. Finally, in 'Expand Your Horizons,' I talk a bit about challenging yourself to read outside your comfort zone or in a more focused way. That post grew out of starting my own experiment in the form of a Five Book Challenge, in which a friend of mine and I each assigned one another five books to read in the coming year.
Regular readers of the Black Gate blog will have read some of my posts on reading in the past that pertain to increasing one's reading output. Both my post on keeping reading lists and "speed reading" focus on trying to get more read over time. I've also talked about reading ruts and obsession in Specialist and Generalist Readers. Beyond the practical, my paen On Bookmarks may be of interest, as might my celebration of browsing in a brick-and-mortar bookstore: Books Best Appreciated in Their Natural Habitat. Any way you slice it, a nice, fresh, new year is the perfect time to decide you are going to read that fat classic or epic series you always wanted to, or set some goal for yourself like reading a book a week or shooting for 100 books in a year. Whatever your personal goals, it's always satisfying to to do something different and new — after all, it is a New Year, and I think it's worth trying to keep it 'new' as long as we can.
__________
BILL WARD is a genre writer, editor, and blogger wanted across the Outer Colonies for crimes against the written word. His fiction has appeared in numerous magazines and anthologies, as well as gaming supplements and websites. He is a Contributing Editor and reviewer for Black Gate Magazine, and 423rd in line for the throne of Lost Lemuria. Read more at BILL's blog, DEEP DOWN GENRE HOUND.