Short Fiction Beat: Looking Forward to 2010
Short Fiction Beat: Looking Forward to 2010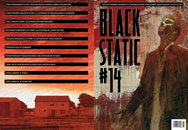 Well, entering the year (both in terms of typing the title and having lived to see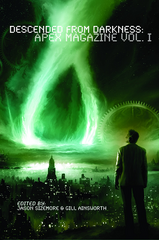 it) was a little weird to write. The first chapter of The Martian Chronicles is January 1999, which from the vantage point of the middle of the 20th century, when the German V-rockets had landed not on another planet, but London, that seemed about right for when humanity might be "reaching for the stars" as it was called.  The book ends in April 2026 which, with luck, proper diet and exercise, and health care reform I might actually still be alive to see. And which more than likely humankind, assuming it hasn't blown itself up, will remain earthbound.
So much for the fantasies of the Golden Age of science fiction writers.
There is no shortage of new fantasies as we start the second decade of the just ten years ago was a new millennium (remember the imagined horrors of Y2k versus the actual horrors of human stupidity, greed and hatred that show little evidence of disappearing from the species).  Here are two quick reports of what's in store:
From Jason Sizemore at Apex Publications:
Apex Publications is proud to announce the release of  Descended From Darkness Apex Magazine Volume 1 [which]collects all our original short stories published online in Apex Magazine into one bound physical book.The anthology contains stories by Mary Robinette Kowal, EkaterinaSedia, Theodora Goss, Peter M. Ball, Lavie Tidhar, and more.We're counting on sales of Descended From Darkness to help finance the 2010 year of Apex Magazine. If you like what you read in Apex Magazine, then please consider buying a copy because we can't do this without YOU!
Stories:

We, Who Live in the Wood by Paul Finch
illustrated by Ben Baldwin

The journey down from London was less time-consuming than David had anticipated. In his usual experience, trips to the West Country, in particular to the Devon and Cornwall penin sular, were fraught with problems: heavy holiday traffic, ill-timed roadworks, unbearable temperatures due to blazing sun shine and an overheated engine. But of course that was the story in summer. On this occasion it was mid-January; the sky was cold and grey, and the empty roads wound through a chill, cheer less landscape.

The Eleventh Day by Christopher Fowler
illustrated by Ben Baldwin

The First Day: Mia Terebenin worked in the St Petersburg International Archive, cataloguing documents pertaining to postwar Russian-American oil initiatives. She was twenty two years old, a little too slender, pale and blonde, with ice-blue eyes and a trans lucence to her skin that gave her a haunted quality that men either found attractive or disturbing. Her colleagues joked that during the season of white nights she all but disappeared in the dull glare of falling snow.

Hootchie Cootchie Man by Maurice Broaddus
illustrated by Dave Senecal

The pouring rain reduced the two figures to ghostly outlines; however, Nathaniel Johnson felt some thing akin to pity stir within him. Not liking the idea of leaving hitch hiking women to the elements, especially at night, he pulled the car over. Moments of compassion aside, he had a schedule to keep.

Survivor's Guilt by Rosanne Rabinowitz
illustrated by Mark Pexton

As I enter the meeting hall near the Thames I breathe in the scent of tobacco and wet clothing, perfume mingled with fried fish, the malt and yeast of beer flowing freely. Strains of Spanish guitar are already wafting from the auditorium.

Teen Spirit by Gary McMahon
illustrated by Daniele Serra

"I hate you!" The door slams shut, rattling the frame, and as Helen turns stiffly to the window, dabbing at her eyes with a tissue, she sees her son stomping down the path and out of the gate, where he runs to meet a group of boys on the street corner. He is promptly absorbed into the pack, and they move off slowly, pausing only to push and cajole each other at the kerb's edge. A typical urban tribe, they then swagger off along the otherwise quiet street.