Twilight Tales Interview with John O'Neill
Twilight Tales Interview with John O'Neill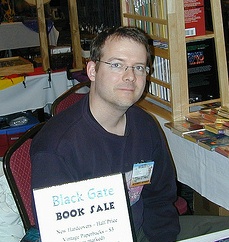 Twilight Tales is a Chicago institution. For over a decade it's brought hundreds of authors from around the world to perform their stories live at Chicago's Red Lion Pub as part of its weekly fiction reading series.
Over the years Black Gate editor and publisher John O'Neill has participated in Twilight Tales editors' panels, and been a judge for its "Authors in the Hot Seat" critique shows.
Now David Munger interviews John as part of the Twilight Tales Interview series, covering such topics as the magazine's beginnings, his editorial vision, the future of short fiction, and the three novels every Black Gate reader — and aspiring fantasy writer — should read.