Black Gate Short Fiction Reviews
Black Gate Short Fiction Reviews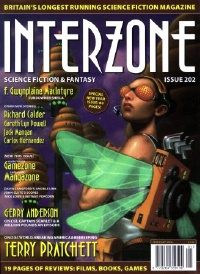 What? You've finished reading all of Black Gate's back issues, and you're still hungry for good short fiction?
Don't despair. Last month we dispatched seasoned Black Gate fiction correspondent David Soyka to the outer reaches of the strange and mysterious magazine marketplace (a dimly-lit Barnes and Noble in Charlottesville, VA) and, just when we thought we were going to have to send Don Bassingthwaite on a rescue mission, he returned — with fresh scars, and tales of wondrous things.
Join David as he reports on the exciting sightings on the frontiers of genre fiction, including Interzone, H. P. Lovecraft's Magazine of Horror, and the strange and mythical thing (once thought extinct) known as Sword-and-Sorcery, found thriving in the pages of Howard Andrew Jones' Flashing Swords.