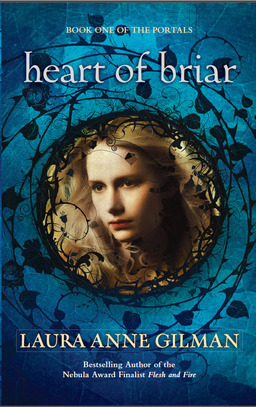 She got me. I didn't expect to get caught up in this book, thought I would just read the first couple of chapters, because it's not my usual kind of thing. Gilman uses some of the tropes of paranormal romance, but she's using them to do bigger things, some of which I did not see coming.
If you're severely allergic to romance, the virtues to be found in Heart of Briar will not be enough to balance the book for you, even though it is not clear at the end of this volume who the male romantic lead for the series will turn out to be. If you're severely allergic to urban fantasy, you might not make it past the nice young geek couple looking up from their computer screens to discover, to their horror, a parallel society of supernatural beings that's about to smash into their technology-centered happily ever after.
After my last review here, of a book that was inaccurately marketed as the first volume of a new series, I want to note how refreshing it is that this week's title is, as promised on the cover, Book One of The Portals. It helps to know a little folklore, but even that's unnecessary. Gilman has written plenty of books before. I haven't read any of them. It's possible there's some crossover with her other series, but I never felt like I was out of the loop.
On the contrary, I usually felt like I was sometimes more in the loop than the protagonist was. Poor Jan is not a fantasy reader, did not consume volumes of folklore and mythology as a child, doesn't know what she's being warned about when the supernatural characters try to confess to her that they can't be trusted. They're good in their ways, which are fundamentally incompatible with human ways.
Fortunately for everyone in Jan's world, she's sufficiently brave, stubborn, devoted, and open-minded to catch up, keep up, and bring something new to the local shapeshifters' efforts to repel an invasion from an extraordinarily hostile version of the Fae. Gilman's fairyland bears a remarkable resemblance to the chilling otherworld of C.L. Moore's great pulp sword and sorcery classic story "Black God's Kiss." Gilman's elves behave in ways befitting extradimensional perils from a Clark Ashton Smith story. It's a little jarring to see a book that uses some of the trappings of paranormal romance to give the vintage Weird Tales treatment to what starts out looking like a retelling of Tam Lin, but ultimately I think Heart of Briar succeeds at the strange balancing act it attempts. You see now why this novel was worth bringing to the attention of Black Gate readers?
---