Steampunk, Voodoo, and the Walking Dead: Something Strange and Deadly by Susan Dennard
Steampunk, Voodoo, and the Walking Dead: Something Strange and Deadly by Susan Dennard
For readers with dark tastes and a deep-seated love for romance, I recommend Something Strange and Deadly, the first in a trilogy by Susan Dennard, author of Truthwitch.
Why, you might ask? Well, Dennard has a supreme understanding of how to enhance gothic themes with an addictive steampunk flourish, and captivate her readers with antagonists you come to enjoy more than the protagonists. (Okay, that's a stretch. But she outdid herself with her villain). Do you know how to spend a blissful Saturday evening curled up under your favorite blanket drinking tea, while freezing rain crashes against your window in the coal black darkness of the night? Then you, my friend, know the right way to appreciate this diamond in the rough.
Eleanor Fitt, a ferociously intelligent sixteen year-old from a disgraced aristocratic family in Philadelphia, longs for the return of her older brother, Elijah. When she becomes entangled in a swarm of the walking dead at the famed exhibition, a harbinger of her brother's possible doom delivers a telegram with a cryptic message that gives her a clue to his whereabouts.
[Click the images for bigger versions.]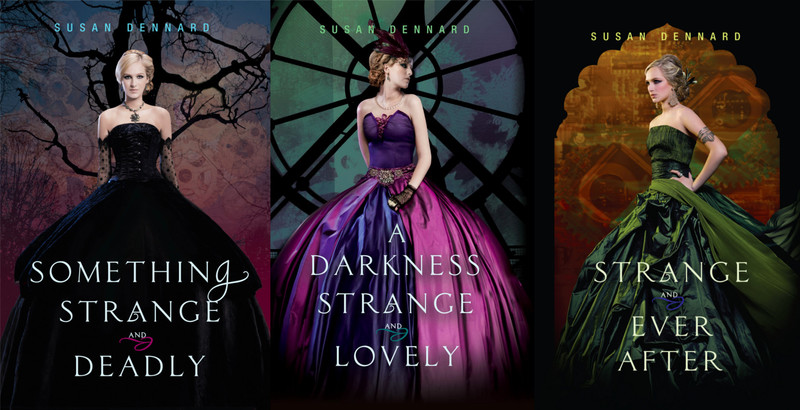 The complete trilogy
With the knowledge of her brother's potential involvement in the world of the walking dead, Eleanor enlists the assistance of the Spirit-Hunters, a fearless trio of wandering-corpse annihilators harboring deep secrets of their own. To complicate matters, when the hotheaded, brilliant Daniel, the brains of the trio, ensnares her heart in a thorny web of intrigue, she succumbs to an infatuation she cannot resist. But can she resist death?
Oddly enough, it's easy to remain confident that Eleanor can stay on her own two feet and survive an encounter with a vengeful reanimated corpse. Her suitor, Clarence Wilcox, however, a member of an illustrious family tied to her own due to shadowy circumstances, arouses plenty of doubt. I found the interactions between the two of them the most electrifying the novel had to offer for the singular reason that their relationship stirred past the trappings of conventional YA romance.
For starters, their relationship remains one of strained attraction and uncomfortable encounters. That Dennard offers glimpses of what may have blossomed into a meaningful friendship and eventually a heart-stopping romance gives me phantom chills, knowing the sad fate that befalls Mr. Wilcox. The inclusion of a character that refuses to conform to the usual trope of predictable suitor and rival to the object of her affections cements this novel in the pantheon of auspicious beginnings.
Not only does Dennard deliver on complex characters, but she incorporates a diverse body of characters without an ounce of implied forcefulness. You find out why Joseph, a dapper gentleman from New Orleans, fights the dead for a living, and the sinister roots of the undead scourge in voodoo. And you learn why Jie, an intrepid woman skilled in the art of loyalty as well as zombie annihilation, came all the way from China to eke out a meager living doing a job few want to pursue. And their inclusion has the love behind it that you hope every character that differs from the norm harbors.
Something Strange and Deadly was published in 2013 by Harper Teen. It is 416 pages, priced at $9.99 in trade paperback. The cover was designed by Cara E. Petrus.
---
Zeta Moore's last review for us was In Defense of an Abominable Personage: Perfume: The Story of a Murderer by Patrick Suskind. She is exploring work in care for individuals on the autism spectrum, and nerding out when she can.