The World is Not the Way it Was: Downside Ghosts by Stacia Kane
The World is Not the Way it Was: Downside Ghosts by Stacia Kane
A decade ago, the shelves of my local bookstores were groaning under the weight of countless paranormal romances. Urban fantasies featuring baddass women and the dangerous men they desired (including vampires, werewolves, sorcerers, aliens, zombies, buff mannequins, and all manner of sexy and not-so-sexy undead) thoroughly dominated the genre.
Today, the paranormal romance is dead. Not even undead — totally dead. That particular vein of fantasy has been thoroughly played out, and we are not likely to see it return in our lifetime. I can't say I'm sorry to see it go; paranormal romance was never my favorite subgenre, and while it was at its peak it so thoroughly dominated the market that it seemed to choke out everything else.
Still, hidden in every genre and subgenre, there is always good, innovative work. Amongst the derivative pseudo-erotica about well-groomed vampire lords and werewolf bikers was a handful of real gems, produced by writers using the trappings of paranormal romance to craft truly fun urban serials, and those who had tweaked the formula to come up with something uniquely their own. Now that the roaring tide has finally receded on paranormal romance it's time to do a little beachcombing, picking out treasures in the sand. My first pick is the Downside Ghosts series by Stacia Kane, set in a dark and ominous world where the dead have risen, the living are threatened every day, and the Church of Real Truth seized power when governments around the world collapsed.
[Click the images for bigger versions.]
Chess Putnam, a skilled witch and ghost hunter, works for the world-ruling Church, debunking false hauntings and banishing real ghosts. But Chess owes money to a drug lord, and when he calls in the debt in the form of a job, Chess finds herself caught up in a nasty bit of business involving human sacrifice, an abandoned airfield, a mysterious spirit, and a dark conspiracy.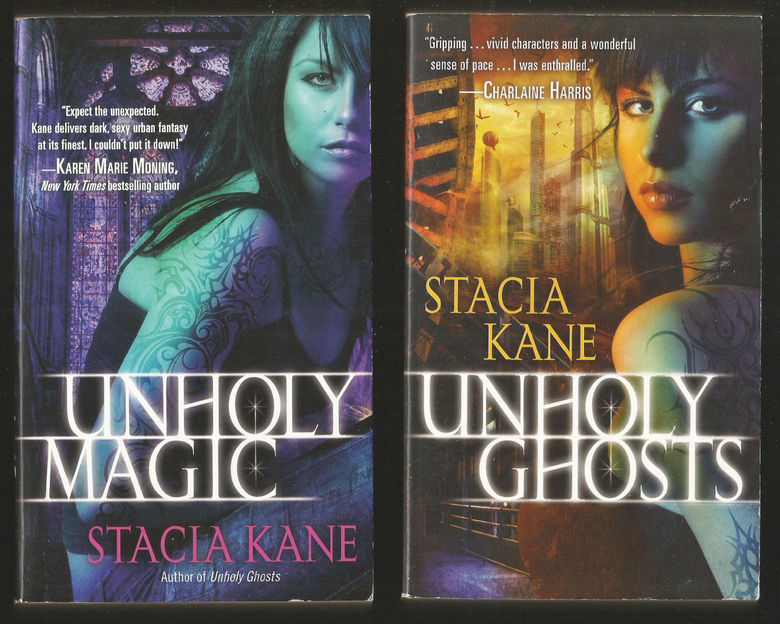 Chess is a very flawed heroine, and the dark and imaginative setting — featuring a repressive world-church, murderous ghosts, black magic, poltergeists and prostitutes — lifts this series well above typical fare. Barnes & Noble selected the series as one of the best paranormal fantasies of the last decade, calling it:
The most socially significant fantasy saga I've ever read… Never before in paranormal fantasy have I read a series that features the combination of grand-scale world building, labyrinthine mystery, superb character development, and social relevance. Stacia Kane's Downside saga is taking paranormal fantasy to another level.
The first five novels were published by Del Rey. The series also includes four short stories and chapbooks, including one, Wrong Ways Down, which (at 238 page) is essentially another novel.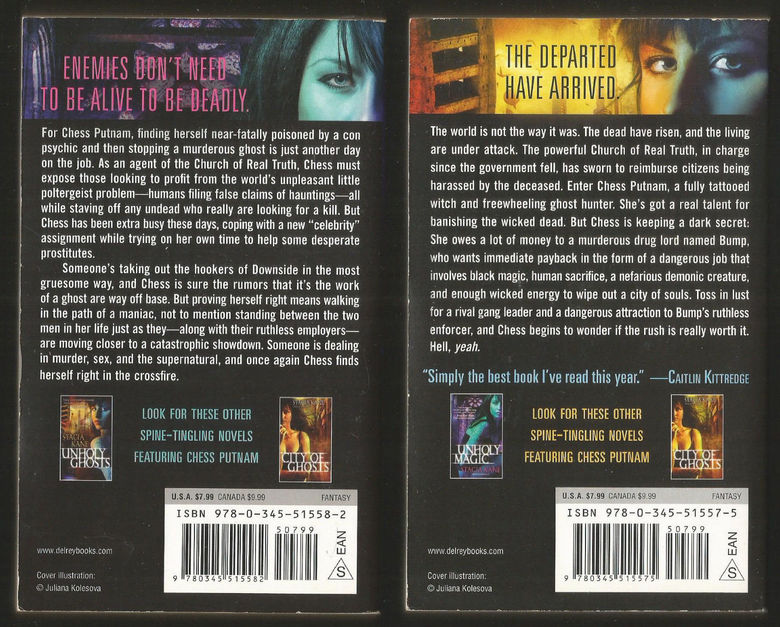 The books in the series are:
Unholy Ghosts (Del Rey, 346 pages, $7.99 in paperback, June 2010) — cover by Juliana Kolesova
Unholy Magic (Del Rey, 343 pages, $7.99 in paperback, July 2010) — cover by Juliana Kolesova
City of Ghosts (Del Rey, 408 pages, $7.99 in paperback, August 2010) — cover by Juliana Kolesova
Sacrificial Magic (Del Rey, 408 pages, $7.99 in paperback, March 2012) — cover by David Stevenson
Chasing Magic (Del Rey, 376 pages, $7.99 in paperback, June 2012)
Wrong Ways Down (4/13 Publishing, 238 pages, $6.99 in paperback, August 2013)
The books are still in print, and available in paperback and digital formats.
See all our coverage of series fantasy here, and all our coverage of Paranormal Romance here.