New Treasures: Dream Forever, the Conclusion of The Dream Walker Trilogy, by Kit Alloway
New Treasures: Dream Forever, the Conclusion of The Dream Walker Trilogy, by Kit Alloway
One of the nice things about review copies is that they force you to consider books that might normally slide under your radar.
Dream Forever is a tidy example. It's got a pretty but fairly generic young adult cover — a teen girl sprawling on an abstract purple landscape — and it's exactly the kind of thing my eyes would have surfed right past on the New Arrivals table. When a review copy arrived from St. Martin's Press, I honestly forget about it for nearly a month.
But I picked it out of the stack this morning, and figured I should at least make an effort to learn what it's about. And I discovered it's the closing novel in a new trilogy from debut author Kit Alloway, featuring a talented dream walker trained by a secret society to battle horrific nightmares — not at all what I might have guessed from the cover design. Publishers Weekly called the opening novel "A suspenseful riddle full of intrigue," and Kirkus Reviews said "The nightmare vignettes are rivetingly chilling. A dark and exciting paranormal adventure."
Here's the description for the first novel, Dreamfire, published in hardcover by St. Martin's on February 24, 2015.
Unlike most 17-year-olds, Joshlyn Weaver has a sacred duty. She's the celebrated daughter of the dream walkers, a secret society whose members enter the Dream universe we all share and battle nightmares. If they fail, the emotional turmoil in the Dream could boil over and release nightmares into the World.

Despite Josh's reputation as a dream walking prodigy, she's haunted by her mistakes. A lapse in judgment and the death of someone she loved have shaken her confidence. Now she's been assigned an apprentice, a boy whose steady gaze sees right through her, and she's almost as afraid of getting close to him as she is of getting him killed.

But when strangers with impossible powers begin appearing in the Dream, it isn't just Will that Josh has to protect — it's the whole World.
Dreamfire was followed by Dreamfever (February 23, 2016), and finally Dream Forever (March 28, 2017). Here's the back covers for all three:
The first two novels in the series have been repackaged in one omnibus edition, Dreamworld, published by St. Martin's Griffin in January, 2017.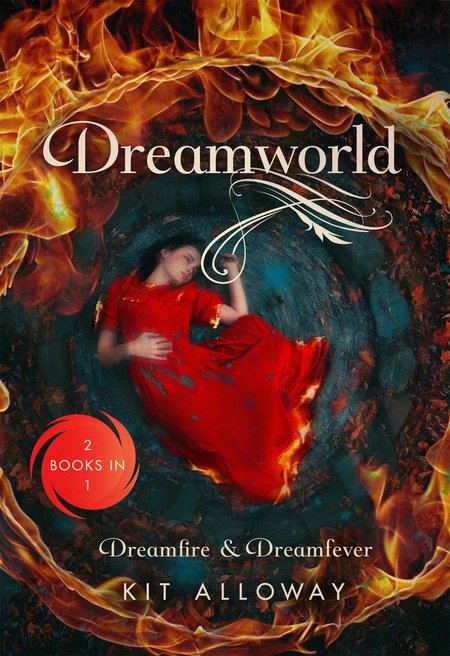 Dreamworld was published by St. Martin's Griffin on January 10, 2017. It is 704 pages, priced at $14.99 in trade paperback. There is no digital edition, but ebook versions of the individual titles are available for $9.99 each.
Dream Forever was published by St. Martin's Griffin on March 28, 2017. It is 326 pages, priced at $19.99 in hardcover and $9.99 for the digital edition. The cover was designed by Lisa Marie Pompilo.
See all our recent New Treasures here.