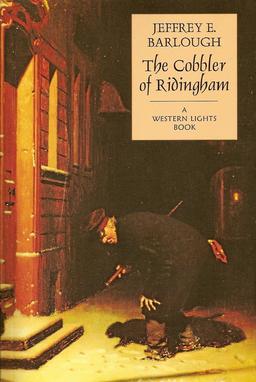 Jeffrey E. Barlough is one of the most gifted and ambitious fantasists at work today, and his seven volume Western Lights series is unlike anything else on the shelves. In his review of the fifth volume, Anchorwick, Jackson Kuhl sums up events as follows:
Eugene Stanley has come to the university at Salthead (a parallel Seattle? Vancouver?) to assist his professor uncle in preparing a book manuscript. One night, while working in a deserted turret room at the college…  Stanley is accosted by a phantasmal form. This ignites a definitive search for the missing don as Stanley and friends uncover lost civilizations, ancestral curses, whole companies of ghosts, monsters from Greek myth, and a few red herrings, all told in rich, dryly humorous style. It's P.G. Wodehouse with woolly mammoths.
Those who complain that there's nothing new in fantasy today aren't looking hard enough. And they're definitely not reading Jeffrey E. Barlough.
The eighth volume in the Western Lights series, The Cobbler of Ridingham, will be released in November, and it features Richard Hathaway who previously appeared in Bertram of Butter Cross and the short story "Ebenezer Crackernut" (from A Tangle in Slops).
A creeping shadow, a bump in the night, a thing in the trees — these are but a few of the surprises lurking in the pages of The Cobbler of Ridingham… The new work relates a curious adventure that befell Richard Hathaway while visiting at Haigh Hall, the home of a family acquaintance, Lady Martindale, on the marshes outside the picturesque old country town of Ridingham.
---