Future Treasures: The Very Best of Fantasy & Science Fiction, Volume Two edited by Gordon Van Gelder
Future Treasures: The Very Best of Fantasy & Science Fiction, Volume Two edited by Gordon Van Gelder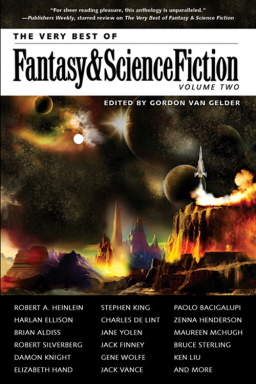 One of my favorite anthologies of the last half decade (and considering how many I've purchased, that's saying a lot) was The Very Best of Fantasy & Science Fiction, Volume  One edited by Gordon Van Gelder. Considering it was an absolutely gorgeous 470-page package sampling five decades of the finest fantasy magazine in the genre, how could it not be?
So I was delighted to hear that Gordon and his publisher, Tachyon Publications, are hard at work on a second volume. It will be released next month, and is nearly as large as the first. Here's the description:
A mutant baby goes on a rampage through Central Park. An immigrant reveals secrets in the folds of a perfect gift. Lucky Cats extend their virtual paws to salute a generous revolution. The Internet invades a third-world village.

The premier speculative-fiction magazine Fantasy & Science Fiction continues to discover and showcase many of the most inventive authors writing in any genre. Now drawing even more deeply upon F&SF's impressive history, this extraordinary companion anthology expands upon sixty-five years' worth of top-notch storytelling. The Very Best of Fantasy & Science Fiction, Volume Two is a star-studded tribute to the continuing vision of F&SF.
This volume collects classic short fiction from Alfred Bester, Stephen King, Zenna Henderson, Robert Sheckley, Robert A. Heinlein,  Jack Vance, Roger Zelazny,  R. A. Lafferty, Lucius Shepard, Gene Wolfe, and many others. It even includes two of my all-time favorite stories: Harlan Ellison's "Jeffty Is Five," and "The Aliens Who Knew, I mean, Everything" by George Alec Effinger.
Here's the complete Table of Contents.
"The Third Level" by Jack Finney
"Fondly Fahrenheit" by Alfred Bester
"The Cosmic Charge Account" by C. M. Kornbluth
"The Anything Box" by Zenna Henderson
"The Prize of Peril" by Robert Sheckley
"—-All You Zombies—-" by Robert A. Heinlein
"Green Magic" by Jack Vance
"The Doors of His Face, the Lamps of His Mouth" by Roger Zelazny
"Narrow Valley" by R. A. Lafferty
"Sundance" by Robert Silverberg
"Attack of the Giant Baby" by Kit Reed
"The Hundredth Dove" by Jane Yolen
"Jeffty Is Five" by Harlan Ellison
"Salvador" by Lucius Shepard
"The Aliens Who Knew, I mean, Everything" by George Alec Effinger
"Rat" by J. P. Kelly
"The Friendship Light" by Gene Wolfe
"The Bone Woman" by Charles de Lint
"The Lincoln Train" by Maureen McHugh
"Maneki Neko" by Bruce Sterling
"Winemaster" by Robert Reed
"Suicide Coast" by M. John Harrison
"Have Not Have" by Geoff Ryman
"The People of Sand & Slag" by Paolo Bacigalupi
"Echo" by Liz Hand
"The New York Times at Special Bargain Rates" by Stephen King
"The Paper Menagerie" by Ken Liu
The Very Best of Fantasy & Science Fiction, Volume Two will be published by Tachyon Publications on July 15, 2014. It is 432 pages, priced at $15.95 in paperback (digital version also available). The cover is by Thomas Canty.
Get more details at the Tachyon website.