Robert Hood's Fragments of a Broken Land: Valarl Undead Wins the Ditmar Award
Robert Hood's Fragments of a Broken Land: Valarl Undead Wins the Ditmar Award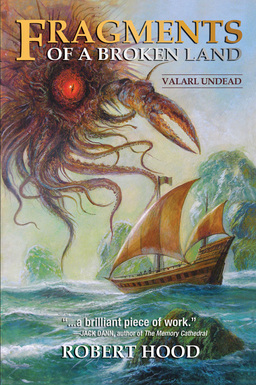 What the heck is the Ditmar Award?
The Ditmar Awarda are the Australian Hugo Awards, recognizing superior achievement in Australian science fiction, fantasy, and horror. They've been awarded every year since 1969. They're named after Martin James Ditmar "Dick" Jenssen, an Australian fan who footed the bill for the awards way back when they were just getting off the ground. Awards are given for best novel, short story, fan writing, and other more boring categories.
All very interesting. But what's more interesting is that a major international award just went to a fantasy novel with GIANT TENTACLES ON THE COVER. And a floating red eyeball.
This is watershed moment, people. Thousands of years from now, future civilizations will point to this moment and say, "Yep, right there, that was it." There will be no need to explain further, because future people are cool and will understand immediately.
I do not have a copy of Fragments of a Broken Land: Valarl Undead. But I really, really want one. I want to know what all the cool future people are talking about, and those Australians with their funky awards. Plus. Giant tentacles.
This is Robert Hood's first novel. His short fiction has appeared in Voices, Scenes from the Second Storey, and Dead Souls. He was the co-editor (with Robin Pen) of Daikaiju! Giant Monster Tales, Daikaiju!2 Revenge of the Giant Monsters, and Daikaiju! 3 Giant Monsters vs. the World.
Here's the book blurb.
In a place where no stars appear in the night sky, a group of strangers whose ancestries reach back to an earlier apocalyptic disaster are brought together to track down a resurrected corpse that might hold the key to the End of the World. Described by science fiction legend Jack Dann as "one of the strangest and most interesting visions to come out of the modern horror/fantasy genres," acclaimed author Robert Hood's Fragments of a Broken Land: Valarl Undead is an epic tale of greed, dying magic, strange monsters, and a motley group of heroes, with a strange and breathless climax you won't easily forget. The dark fantasy novel debut of a major new writer!
Fragments of a Broken Land: Valarl Undead was published by Borgo Press on February 18, 2013. It is 430 pages, priced at $18.99 in hardcover, and just $2.99 for the digital version. The cover is by Bob Eggleton.
See all the winners of this year's Ditmar Awards over at Locus Online.