Black Gate Online Fiction: An Excerpt from The Black Fire Concerto by Mike Allen
Black Gate Online Fiction: An Excerpt from The Black Fire Concerto by Mike Allen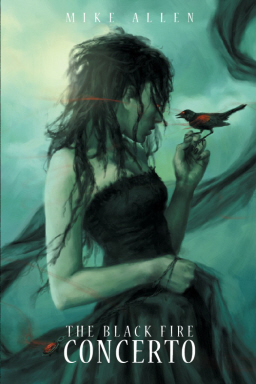 Black Gate is very pleased to offer our readers an exclusive first look at The Black Fire Concerto, a dark fantasy novel by Mike Allen, the acclaimed editor and publisher of the anthology series Clockwork Phoenix and the poetry journal Mythic Delirium.
It was one of the twins who warned her just after dark that a man dressed head-to-toe in black had come through the village earlier that day asking after a piper and harpist and left quickly upon getting an affirmative.

Olyssa had seen the cultists coming up the street from the wharf. At least thirty, all armed with rifles. When she returned to their room on the second story she told Erzelle that there might well be more covering the other exits.

After that brief announcement she sat lotus-style on the floor between their cots with her rifle in her lap and began to chant as the rough voice outside taunted.

"Come out and know our mercy. Come out or you'll wish you had been eaten."

She held the rifle up with both hands as if presenting it for an offering. Its red runes glowed brighter and brighter, her chant unceasing. Huddled under a cot, Erzelle made out the words, uttered fast and sing-song: "Find my enemies. Find my enemies. Find my enemies."

Glowing brighter still, the rifle shuddered and lifted into the air.
John R. Fultz tells us "The Black Fire Concerto is Horror. It's Magic. It's a post-apocalyptic melody played on strings of Terror and Sorcery." And Tiffany Trent says "Mike Allen offers readers a gift of the most delicately layered dark fantasy presented carefully on a post-apocalyptic platter." And Tanith Lee called The Black Fire Concerto, "A prize for the multitude of fans who relish strong Grand Guignol with their sword and sorcery."
Mike's short fiction has appeared in Solaris Rising 2, Best Horror of the Year, Volume 1, and Cthulhu's Reign, among other places. He was a Nebula Award finalist in 2009 for his short story, "The Button Bin," and his first collection of short fiction, The Button Bin And Other Horrors, is forthcoming from Dagan Books.
The Black Fire Concerto was published July 15 by Haunted Stars Publishing. It is a 202-page trade paperback available for $15.95 and $8.95 for the Kindle version. Listen to the first chapter here, and learn more at Haunted Stars.
Read an exclusive chapter from The Black Fire Concerto here.