It's the End of the World As We Know It…
It's the End of the World As We Know It…
Anticipating CTHULHU'S REIGN (Part 2)
            "And in those days shall men seek death, and shall not find it; and shall desire to die, and death shall flee from them."
     –Revelations 9.6
"Who will survive and what will be left of them?"
     –White Zombie,  "Real Solution #9"
Ask 15 writers what the End of the World will be like, and you'll get 15 different answers. That's exactly what editor Darrell Schweitzer did when putting together his latest anthology. Horror and Strangeness were the only constants. Oh, and Cthulhu, of course…
Last week I introduced CTHULHU'S REIGN, a new anthology from DAW Books featuring 15 new tales sharing a common theme: Great Cthulhu has risen and reclaimed the world for the Old Ones. What happens next?
This H. P. Lovecraft-inspired collection is an essential read for horror fans, Lovecraft fans, and anyone interested in survivalist fiction. Although surviving in a universe warped and twisted by the Great Old Ones may not even be possible. As the saying goes: "Evolve or die." But even death may be no escape from Cthulhu's World.
This week (and next) I'm talking with some of the authors who wrote stories for CTHULHU'S REIGN about what inspired their tales of terror and madness.  
The anthology kicks off with "The Walker in the Cemetery" by Ian Watson, which takes place in beautiful Italy; more specifically, inside one of the world's most famous cemeteries, the Necropolis of Staglieno. This real-world "city of the dead" with its "talking statues" sculpted in lifelike detail provided the perfect setting for Ian's bone-chilling tale of apocalypse.
"I needed a suitable setting, and serendipitously I found this in the amazing labyrinthine Necropolis of Staglieno in Genoa," Ian says, "which incidentally also had quite an effect upon Nietzsche, Maupassant, Mark Twain, and Hemingway. When exploring its immensity in company with Roberto Quaglia…we actually got lost and locked in, rather as the characters in my story do, though for a different reason."
Writers often go to uncomfortable places when evoking uncomfortable situations, and Ian found the horror of "The Walker in the Cemetery" invading his own headspace. "I decided to treat the theme completely seriously, and this dragged me into a kind of vortex of derangement once I started. This soon became one of the most harrowing stories I've ever written." Considering its head-on themes of "suffering and fear and evil," it's  no wonder this story bit back.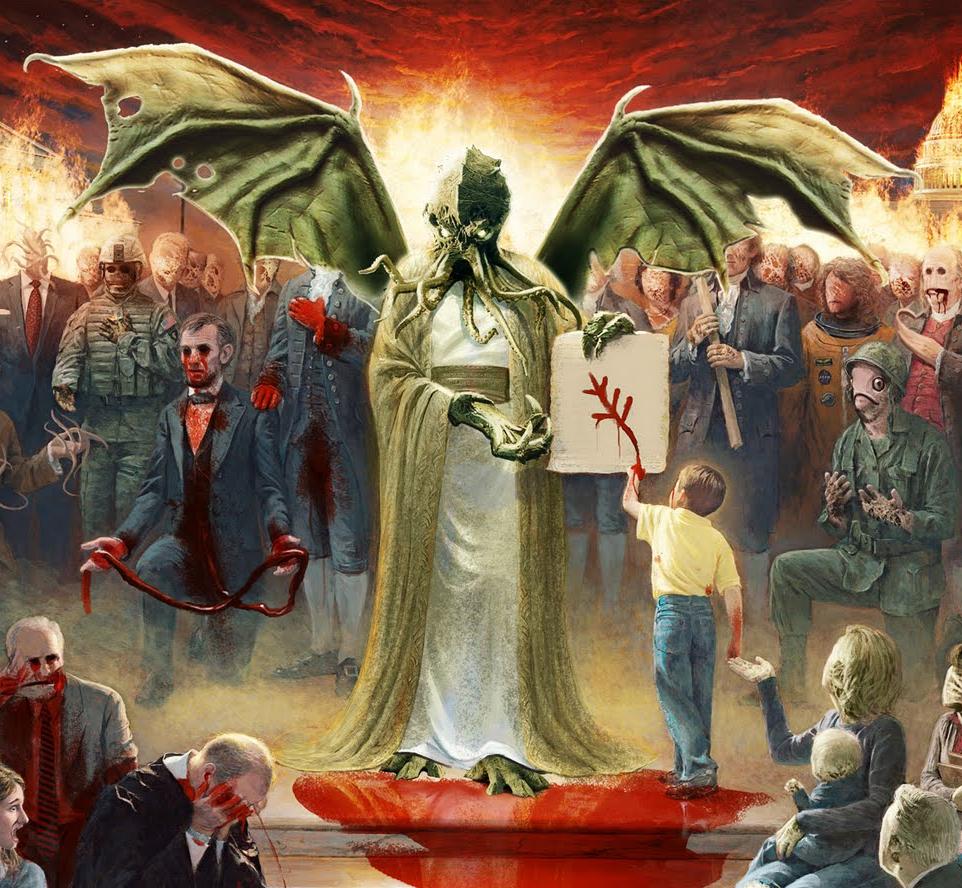 For several days Ian found himself in "a kind of altered state of consciousness…" A couple of friends called to ask if he was okay because even his voice had changed. "So the thing I most 'enjoyed' about writing the story was finishing it and escaping," he says, "a luxury denied to my characters." 
In Mike Allen's "Her Acres of Pastoral Playground" a desperate father does everything he can (including the most terrible Black Magic) to stave off the inevitable weight of Cthulhu's conquest. The story features a non-linear progression of events that explores an existentialist angle, while plunging the reader into some of the most ghastly imagery this side of Lovecraft himself.
"When Darrell contacted me about the project, I had a story already in the works that involved some really twisted family dynamics and creepy shape-shifting," Mike says. "I was attempting a number of complicated things in that story that weren't quite fitting together, and realized adding a little Cthulhu to the story would do the trick. I thought the concept was brilliant. It's kind of an obvious idea, y'know — what exactly does happen after Cthulhu wins? And yet, if there has been an anthology that's explored this concept before I haven't heard of it."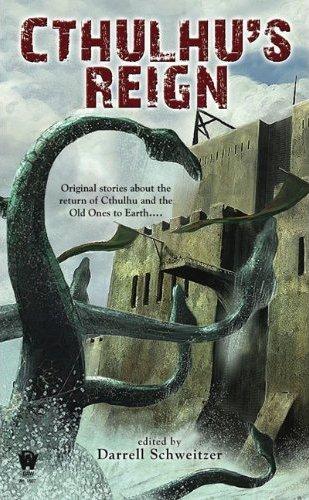 Mike enjoyed the chance to "remove the limits" of possible imaginary carnage…to play in a world gone mad. "Crafting a rather offbeat way to describe that carnage gave my dark heart quite a thrill. The most challenging part of it, I suppose, had to do with making Delmar's (the main character's) strange layers of motivation clear without giving away too much too soon."
Despite the vast power of evil that permeates the reality of his story, Mike says the tale is really about "the triumph of the human spirit in the face of the worst of all odds. Honest. You may not believe me once you read it, but I'll swear till my memory's gone that it's true." 
Matt Cardin's "The New Pauline Corpus" reads more like a fragmented religious text, a mad work of theology and philosophy, than a mere horror tale. Yet approaching Cthulhu and the Great Old Ones from a religious perspective makes a kind of odd sense…especially when you consider that in the world these stories create, Cthulhu has cast aside all human gods and made himself Lord of the World (along with all his grotesque and horrible cosmic cousins).
"Darrell contacted me not just to invite me to submit, but to request a specific kind of story," Matt says. "Some years ago he wrote a strongly positive review for my Divinations of the Deep, so he was familiar with my penchant for writing supernatural horror fiction about dark religious and ontological matters. For CTHULHU'S REIGN he specifically asked me to mine that same vein, and to come up with something that might, as he put it, serve as the Lovecraftian equivalent of Saint Augustine's City of God with its theological reconciliation of the human and divine orders. The challenge he gave me was to find a way to reconcile Christian theology with Lovecraft's Old Ones."
A few specific themes began to emerge as Matt crafted his piece. "The possibly horrific nature of the deity," he says. "The status of human knowledge, selfhood, and religiosity in a cosmos ruled by monstrous powers. The possibility that the Christian scriptures have always had a quasi-Lovecraftian horror encoded within them. The question of whether reality and history are fixed or unstable. The possibility that embracing the horror is the way to escape it."
The story's climax was a revelation even for its author. "It didn't matter that the story started with the return of the Old Ones already presumed as a historical event. There was a further climactic moment, and it involved human spiritual capitulation. I had no idea this was where it would go when I started writing it, but it's what emerged as the inevitable ending. So I guess in a way 'The New Pauline Corpus' is about the big ending that may come *after* the big ending."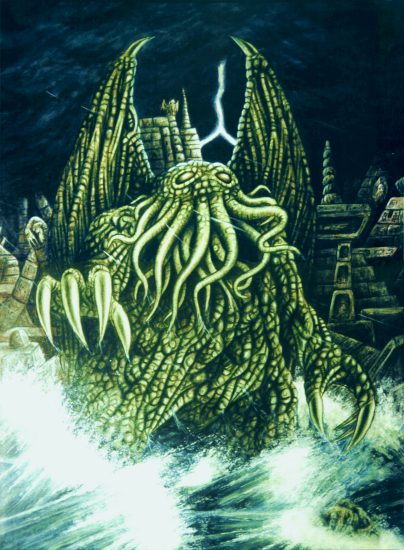 Brian Stableford's "Holocaust of Ecstacy" explores his interest in the science fiction aspects of H. P. Lovecraft's creations. "I've always been interested in the Lovecraft 'Mythos,' albeit more for its science-fictional aspects than its horror potential," Brian says. "My first step was looking up internet sources to find out what the canonical references to Chthulu's reign were and what they said." 
When his research unearthed the phrase that supplied his story's title, Brian started trying to elaborate that phrase with suitably grotesque and horrific imagery. "I'd used the image of human heads growing as 'fruit' on trees before, but hadn't explored its nastier consequences–which the invokation of the star-spawn enabled me to do, using a displaced consciousness out of 'The Shadow out of Time' to supply an explanatory commentary." Brian's story also proposes a cosmic rationale for why Cthulhu and his star-spawn offspring came to earth in the first place…and shows the ultimate fruition of that plan in a grisly feast like none other.
Laird Barron's "Vastation" features no dialogue whatsoever. Laird calls it a "6000-word monologue from an unutterably mad superhuman." Now, who wouldn't want to read that?!?  
Ten years ago Laird sold his first story, an homage to Lovecraft complete with baroque language and cruel yet indifferent cosmic beings. He considers "Vastation" a sort of "update, albeit loosely — in some ways a data point to compare where I am as an author ten years on. I enjoy writing in the cosmic horror/Lovecraftian vein, but in general I avoid treading within Lovecraft canon as I prefer to rework Mythos tropes and have created a universe that runs parallel to that of Lovecraft and his successors. On the other hand, I love the Old Ones, of which I count Schweitzer, so I jumped aboard without hesitation."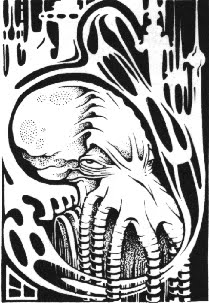 "Vastation" is a bizarre, rollicking tale that explores several broad themes including existentialism, the indifference of the cosmos, immortality, and the paradox of time travel. There are more weird ideas, cataclysmic events, and mind-bending concepts in this single story than you'll find in most novels! "Vastation" will leave your head spinning and your pupils dilated by an overdose of strangeness.
Next week I'll be talking with CTHULHU'S REIGN authors Will Murray, Don Webb, Gregory Frost, Richard Lupoff, and editor/contributor Darrell Schweitzer. 
Until then … Sweet Dreams.