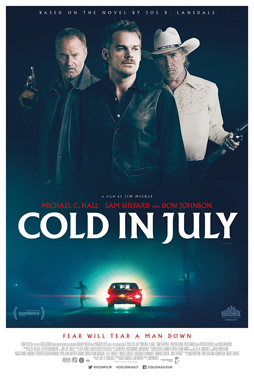 I've mentioned before that the Fantasia Festival has, logically enough, programmed what look to be their most popular movies in the big Hall Theatre. That often means unabashed genre movies — movies that aim at telling a certain kind of story a certain kind of way. A genre's a set of conventions, and a storyteller can play against those conventions or use them to get at whatever they want, as they see fit. And, especially as genres become better-known by audiences, there's a natural inclination to mix conventions, to set genre against genre within a single story. The trick, of course, is that whichever angle you take you should try to do it well.
Last week from Monday (the 21st) through Wednesday I saw three genre movies at the Hall: Cold in July, directed by Jim Mickle from a prose story by Joe R. Lansdale; The Fatal Encounter (originally Yeok-rin), a dark, violent period piece from Korean director Lee Jae-kyoo; and The Huntresses (originally Joseonminyeo Samchongsa), a much brighter period piece from Park Jae-hyun. They all aimed at a certain target, and to various degrees hit what they were aiming at. They were all working in different genres, producing different effects. But they were all intensely conscious of how genre worked.
Monday was Cold in July, scripted by Mickle and Nick Damici from Lansdale's 1989 novella. I haven't read it, so I can't speak to the faithfulness of the adaptation; but the story on screen did some interesting things, starting out as a certain kind of thriller, then changing tones, then changing tone again. It begins with a man in a small town in Texas in the late 1980s, a picture-framer named Richard Dane (Michael C. Hall), who surprises an intruder in his home and accidentally shoots him dead. This leads to the dead man's ex-con father, Ben Russell (Sam Shepard) swearing revenge. But then Dane makes a discovery that throws into question what he thinks happened, and suggests that the authorities are lying to him and Russell. A private investigator (and pig farmer) named Jim Bob Luke (played with tremendous humour by Don Johnson) enters the picture. The plot thickens. Ultimately things resolve in a violent third act mission.
---