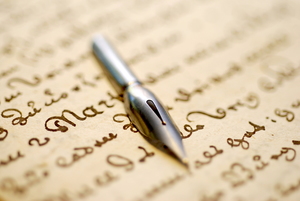 I'm often asked at book signings and other public events about the process of writing and publishing. How long does it take to write a novel, and what happens after you're done? In this blog I'll cover some of the different aspects of the process from my perspective. I'll start at the beginning: the story seed.
How does the idea for a book begin? It could be anything, an interesting situation from real life, a scene from a movie that gets you thinking, a smell that reminds you of childhood summers, or maybe you read a book and thought to yourself, "I could do something like this."
Once you have an idea for a story, the creation process begins. I'm not going to get into the specifics of how to write fiction or all the things people say you should do before you start your first novel. If you want lessons to hone your craft, there are roughly fourteen bajillion books about writing on the market. Some are helpful, others not so much. Or check out one of my earlier blogs here on Black Gate (Nobody Gets Out Alive: Writing Advice from the Cheap Seats).
So how does that initial spark transform into a living, breathing novel? For me, the first thing is make sure I've got a viable story idea. You can write about almost any situation that humans (or nonhumans) find themselves in, but to hold a reader's interest for three or four hundred pages is a tall order. Not every story idea can stand up to that. So I daydream. Yep. I sit at my desk and daydream about the idea. I wonder where would be the ideal setting for this story. What kinds of characters would play the lead roles? Most importantly, where's my conflict? Is it a story about love, honor, war, spelling bees, or horse whispering? As the idea grows, I write everything down. Much of this will get tossed out at some point, but it's important to record it all now before the magic of the idea wanes.
---