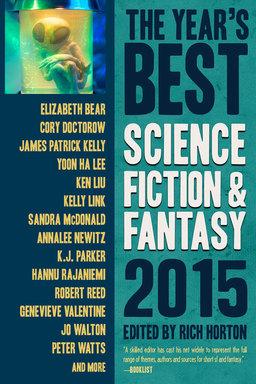 Last month Prime Books announced the Table of Contents of my favorite Year's Best book, Rich Horton's The Year's Best Science Fiction & Fantasy 2015.
This is the seventh volume, and it looks like another stellar line-up, with 34 stories from the leading print magazines (Asimov's SF, Interzone, Analog, F&SF, and others), online publications (Clarkesworld, Lightspeed, Beneath Ceaseless Skies, and more) and anthologies (Fearsome Magics, Reach for Infinity, Rogues, and Solaris Rising 3, among others).
Authors include Kelly Link, Robert Reed, James Patrick Kelly, Alexander Jablokov, K. J. Parker, Ken Liu, Genevieve Valentine, Eleanor Arnason, Cory Doctorow, Peter Watts, and many, many others.
I was also very pleased to see two Black Gate contributors made the list: Saturday blogger Derek Künsken, with his Asimov's tale "Someday," and website editor emeritus C. S. E. Cooney, for her story "Witch, Beast, Saint: An Erotic Fairy Tale," from Strange Horizons.
The Year's Best Science Fiction & Fantasy 2015 is a fat 576 pages, and goes on sale in trade paperback from Prime Books in June.
Here's the complete Table of Contents.
---