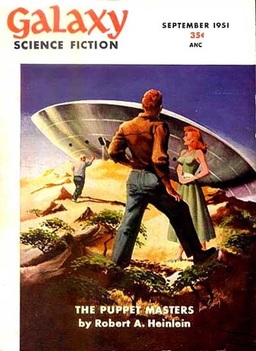 Galaxy concluded its first year of publication with this issue. Horace (H. L.) Gold notes some interesting stats in his opening remarks. He mentions that about 60 stories were selected from submissions of about 3,000. That's a 2% acceptance rate, which is better than Duotrope reports for some professional magazines today.
Still, if you're an author planning to travel back to 1951 to try your chances on getting into Galaxy, bear in mind that you're up against some of the founders of science fiction. It's you vs. Heinlein; you vs. Damon Knight. That might prove more difficult than inventing a time machine.
The Puppet Masters (Part 1 of 3) by Robert Heinlein — Slug-like aliens attach themselves to human hosts and take control of their minds. They begin an invasion by controlling key individuals, city by city, steadily working their way toward the President of the United States.
A government agency, led by the Old Man (as he's called), works alongside two of his best agents, code-named Sam and Mary. The three of them try to capture a live specimen in order to learn more about the threat and to convince the president to quarantine vast areas of the country. But with so many controlled government leaders assuring the president that there is no danger, it seems impossible to defeat the puppet masters.
I'm familiar with this story from one of its movie adaptations. This story set a standard for parasite-controlling creatures. It's a frightening concept, not too far from the notion of zombies; in both cases the individual is lost, reduced to involuntary responses.
---