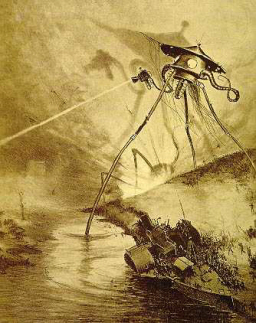 It's that time of year, friends, the time when we look back in sorrow on the New Year's resolutions that drooped and faded before the first bloom of spring, and when we start to formulate the resolutions that we know we're really going to keep this time, dammit. I generally don't make new year's resolutions myself, for the reasons implied above, but last year I did — I decided that 2014 would be the year of rereading.
As I've gotten older, I've discovered that even as I'm reading more than ever, I almost never do any re-reading. There are just so many books, both enticing new ones and old ones that I've always meant to get around to and never have (you know, all those great books, old and new, that you find out about whenever you visit a certain website which shall remain nameless).
When I finish one book and reach for another, the pressure exerted by both the never-ceasing pile up of the present and the still-unexplored past seems to weigh overwhelmingly in favor of the as yet unread. Rereading falls by the wayside.
This is in sharp contrast to my adolescent days, when I would regularly reread my favorite books, some of them many times. (I've probably read Robert Heinlein's Have Space Suit, Will Travel and Edgar Rice Burroughs' The Gods of Mars eight or ten times each, for instance.)
---