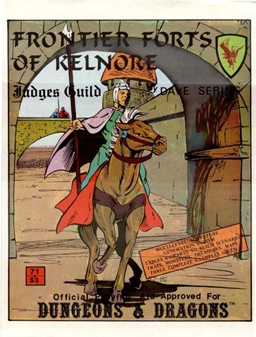 When I began playing Dungeons and Dragons in the late seventies, I was a Judges Guild fan. My friend, who had more money, would buy shiny TSR modules. And I would get the cheaper-covered Judges Guild products. F'Dech Fo's Tomb, Ravenscrag, Inferno (with a real cover), City State of the World Emperor, Wraith Overlord… I loved reading those things.
Frontier Forts of Kelnore guarded the border of my kingdom of Troya, ruled by the great warrior, Astyannax (I got more creative over the years). I even subscribed to Pegasus magazine, right up to the day it was discontinued.
Now, I liked those Judges Guild modules and supplements, but looking back, many did not age well (though a few did). Gaming has changed a lot over the years, and reading them is kind of like watching an early talkie from the thirties. They're out of place.
Having said that, they can still be interesting. I recently considered updating Glory Hole Dwarven Mine to work with Forge of Fury as a Pathfinder dwarven adventure. However, converting those old AD&D/Universal modules would take a LOT of work.
---