Tabletop Terror: The Dread House Kickstarter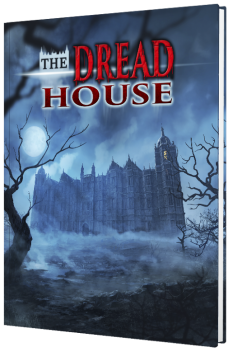 I have previously discussed the great horror-themed supplements that Paizo is putting out for the Pathfinder RPG, but they aren't alone in this. With the advent of digital publishing and crowdfunding sources like Kickstarter, there's an array of new, independent publishers who are finding under-served niches in the gaming industry and creating projects to serve them.
One of these current Kickstarters, The Dread House by Hammerdog Games, is currently fully funded and building toward its initial stretch goals. It has some really unique features:
A 128-page hardcover (or digital) adventure/setting book of a haunted house, containing adventures for the Dungeons & Dragons (5e), Pathfinder, and Call of Cthulhu roleplaying games, including multiple possible time periods within these games.
Rules for powerful new creatures, including the Dread Ghost.
Optional Fear, Sanity, and Soul Point rules.
Fictional "ghost stories" written by Kevin Andrew Murphy and Richard Lee Byers.
A set of haunted house tiles, matching the maps within the adventure book.
Sets of room decoration miniatures, including furniture pieces such as beds, bookcases, bathtubs, and, yes, even a couple of privies!
Additions of more adventures, miniatures, and tiles as stretch goals are reached.