A Brief History of Dr. Anton Phibes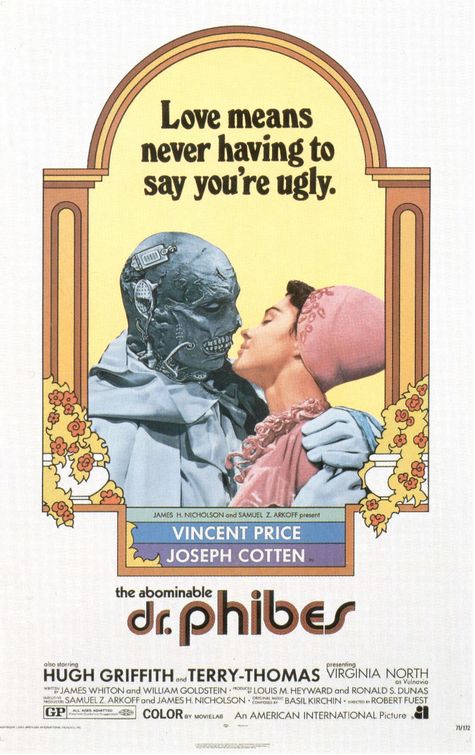 Dr. Anton Phibes is the mad genius played by Vincent Price in two cult classic films for American International Pictures in the early seventies. Director Robert Fuest imbued both The Abominable Dr. Phibes (1971) and Dr. Phibes Rises Again (1972) with a surprising degree of style and wit that set them apart from virtually all other genre films of their era.
The creation of screenwriters James Whiton and William Goldstein, Phibes was portrayed in their original screenplay, The Curses of Dr. Pibe (not a typo on my part, the character's surname was subsequently altered) in a much more serious vein. Their intended film was both dramatic and horrific and much more in keeping with the tone of horror films of the early 1970s. It is a far cry from the blackly-humored, deliberately anachronistic 1920s period piece resplendent in Art Deco designs that Fuest delivered to AIP.
Dr. Phibes is said to hold doctorates in both music and bio-physics. Phibes is an acclaimed organist and composer and, in private, an eccentric and reclusive inventor. He is hopelessly devoted to his beautiful young wife, Victoria (played in both films by the lovely Caroline Munro) who dies on an operating table following a car crash that leaves her husband horribly disfigured with a literal death's head in place of a face.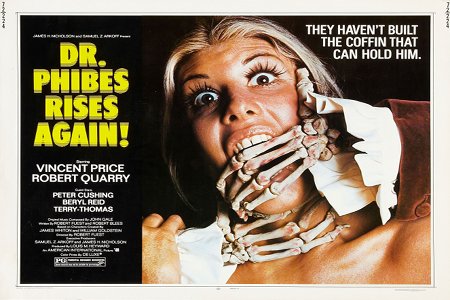 Victoria's death drives Phibes insane. He allows the world to think him dead and sets out to exact revenge on the surgical team he holds accountable for her death. He employs the G'tach, the Biblical ten curses of Egypt as his means of assassinating each member of the surgical team. The murders are investigated by a hapless Scotland Yard detective, Inspector Trout (wonderfully underplayed by Peter Jeffrey).
Vincent Price turns in an amazing performance as Phibes. His character's vocal chords were damaged in the accident. He speaks only with the aid of one of his inventions. For much of the film, Phibes wears a face mask (Price's own face), but his lips never move while talking. Remarkably, the performance never suffers as Price compensates by conveying so much with his expressions.