I Would Have Gotten Away With It, Too, If Not For… Betrayal at Mystery Mansion!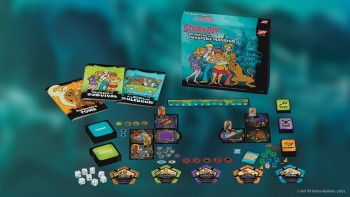 Originally published in 2004, Betrayal at House on the Hill continues to be one of my favorite games. I have reviewed the original game before, but there's a new variant that's just been released, aimed at a younger audience. While I wouldn't say it surpasses the previous iterations of Betrayal, it definitely has a lot to offer on its own merits, particularly if you're looking to get young gamers into a game that has more layers of complexity.
In Betrayal at Mystery Mansion (Amazon), you are playing 3 to 5 members of the Mystery Incorporated gang from Scooby Doo!, searching through a seemingly-haunted mansion and the surrounding grounds. You can explore inside and outside of Mystery Mansion, and eventually stumble upon the big bad Monster, often along with an assortment of minions to carry out its nefarious plots. There are, as in the original game, a variety of monsters and scenarios that play out, but it's definitely much more streamlined than in the original game.
One major difference from the original is that when the Haunt is triggered, players get to choose who will play the role of the Monster. One of the only ways that Betrayal at House on the Hill can go south, from what I've seen, is if the "wrong person" is randomly assigned as the Betrayer.  If you're playing with a casual gamer, in particular, it is possible that they don't really understand what they're supposed to be doing when they read their portion of the Haunt scenario, or maybe they're just not very strategic in how they utilize their powers and abilities. This variant approach gives you the option to make sure that the person in the role of the betrayer actually wants to be put in that position.