Hither Came Conan: Jason Durall on "Xuthal of the Dusk"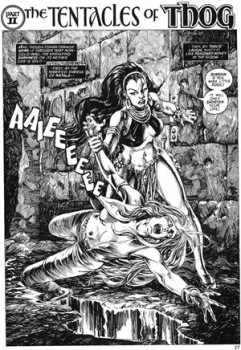 Welcome back to the latest installment of Hither Came Conan, where a leading Robert E. Howard expert examines one of the original Conan stories each week, highlighting what's best. Jason Durall is the line editor for Modiphius' RPG, Conan: Adventures in an Age Undreamed Of.

Xuthal of the Dusk on 25 Lunas a Day
Of all of Howard's Conan stories, "Xuthal of the Dusk" is one of his most emblematic, regardless of its quality compared to the other. If one were to assemble a tasting menu of Conan containing all his recurring themes and story elements, one could look no further than this story and come away with a good sense of the whole. With only one glaringly weak point, the story is an underappreciated gem and worth reconsidering in its place among the overall canon.
First appearing in the September 1933 issue of Weird Tales under the title "The Slithering Shadow", the story, like many of Howard's tales, was graced with an extremely risqué cover by Margaret Brundage, no small contributor to the magazine's sales (more on this later). Though the story's published title was "The Slithering Shadow", Howard, in a letter to Clark Ashton Smith, clarifies that its original title was "Xuthal of the Dusk". Given a choice between the title the story was written under versus a title provided by the editor, let us remain true to Howard's preference in the matter.
"Xuthal of the Dusk" may not be the best of the Conan stories, but it is one of the purest Conan stories. Let's examine all the notes this story hits, and this should become clear.