Nero Wolfe's Brownstone: 3 Good Reasons – Murder is Corny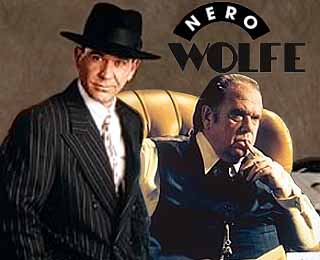 Alas – the home front is a bit…chaotic, with my wife halfway around the world on a mission and trip and the eleven-year old still needing school transportation – among other things. I didn't get to finish editing this week's A (Black) Gat in the Hand post – so, here's the second entry in a feature which I hope will be part of a Nero Wolfe column next year. You can read my first try, covering "Not Quite Dead Enough."
With a goal of eventually tackling every tale of the Corpus, I'll give three reasons why the particular story at hand is the best Nero Wolfe of them all. Since I'm writing over seventy 'Best Story' essays, the point isn't actually to pick one – just to point out some of what is good in every adventure featuring Wolfe and Archie (BTW – I got the idea from Hither Came Conan from this Wolfe series!). And I'll toss in one reason it's not the best story. Now – These essays will contain SPOILERS. You have been warned!
The Story
Today's story is "Murder is Corny," from Trio for Blunt Instruments. Nero Wolfe is upset because the weekly delivery of fresh corn is late. It finally arrives in the hands of Inspector Cramer, who got it from the scene of the murder of the delivery man. Archie had had a few dates with Susan McLeod, the farmer's daughter, and she has unintentionally framed him for murder. Cramer arrests Archie, and to preserve his comfort level, Wolfe takes on the case, with Archie as his client.
3 GOOD REASONS
ONE – The Corn
This story contains one of my favorite openings. Every Tuesday, from July 20 to October 5, sixteen ears of just-picked corn are delivered to the brownstone from the farm of Duncan McLeod. Wolfe, of course, is very particular about the corn, including the requirements that it must be picked not more than three hours before he receives it, and that it must arrive between 5:30 and 6:30. Fritz prepares all of it for that evening's dinner. But on this September Tuesday, the corn never arrives and Fritz has to make do with stuffed eggplant. Oh, the horror!
Wolfe is out of sorts and doesn't engage Archie in their usual post-dinner conversation, over coffee in the office. He is standing at the giant globe, whirling it and scowling at it. This is unwarranted physical exertion on Wolfe's part!
Inspector Cramer rings the doorbell and is admitted, carrying a carton with Wolfe's name on it. He marches down the hall, deposits it on Wolfe's desk and cuts the cord around the box. As Wolfe comes over to his desk, Cramer opens the flaps, holds up an ear of corn and says, "If you were going to have this for dinner, I guess it's too late."