GenCon 2014 – Part 3: Pathfinder, Pathfinder, and More Pathfinder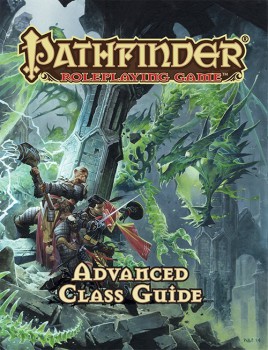 Every year, one of the most enjoyable booths to attend at GenCon is the Paizo booth. And I'm certainly not alone in that belief. Last year, the massive rush at Paizo to get copies of the Pathfinder Adventure Card Game: Rise of the Runelords base set (more on this later) resulted in a line that snaked its away across a massive section of the Exhibit Hall. This year, they had to actually have a line out in the hallway to even be admitted into the booth, to avoid cluttering up the Exhibit Hall itself with all the desperate Pathfinder fans. And there were certainly a lot of great products to inspire a spending frenzy this year.
Pathfinder Roleplaying Game
The flagship product coming from Paizo Publishing is the Pathfinder Roleplaying Game. Pathfinder always has a ton of great releases coming out on an extremely aggressive schedule – a range of adventure modules, player companion supplements, campaign setting supplements, and so on – but here are some main hardcover rulebooks slated for the next few months that are of particular interest to anyone who plays Pathfinder.
Advanced Class Guide (Amazon, Paizo)
This new book provides details on 10 new hybrid classes, which are designed to meld together traits from two of the core and base classes from previous supplements. For example, the hunter is a hybrid of the ranger and druid, a martial character who is able to channel animal powers and bond more closely with their animal companion, but still wield spells. The bloodrager mixes the combat features of the barbarian with the mystical bloodlines of the sorcerer. The brawler is a fighter who gains several of the unarmed combat benefits of the monk, but without the spiritual aspects.