Legend of Legacy: Laborious
Atlus has been one of the major players in getting unique and interesting RPGS onto the various Nintendo handhelds over the years: From the recent side stories of Shin Megami Tensei, to my personal favorite, the Etrian Odyssey series. However, not all of them can hook me, and today's game Legend of Legacy is a case where thinking outside the box proved to be its undoing.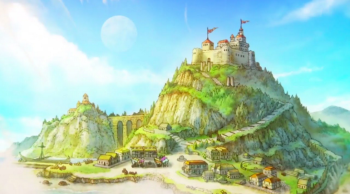 Legend of Legacy starts out as most JRPGs (Japanese role playing games) do: Mysterious setting, hidden treasures and a group of heroes on a quest, but the game quickly changes things up.
You can choose one person to be the main character at the start of the game, quickly meeting and teaming up with two other characters with the option to swap party members at anytime from the starting town.
The story is just a loose reason to go exploring, and the game allows you to skip cutscenes if you so choose. Similar to Etrian Odyssey, the main point of Legend of Legacy is to explore and build an effective party.