Of Phibes and Androbots I Sing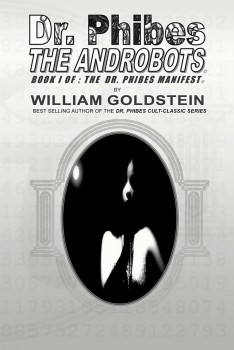 Dr. Phibes is far more than the evocation of the great thriller characters of its creator's childhood; he is a character that stands proudly alongside Dracula, Moriarty, Nikola, Fu Manchu, Fantomas, and Mabuse as an equal in inventiveness and execution. William Goldstein, as screenwriter and novelist, created an immortal as only the best storytellers do. Phibes is a character who transcends his era, defines his own archetype, and is firmly established in his own mythology to pass from one generation, century, and millenium to the next. The best news for fans is The Master's work continues with the fifth and latest book in the ongoing series, The Androbots – Book I of The Dr. Phibes Manifest.
Those who have read the first four books in the series or, at the very least, my other Black Gate articles covering these titles, are aware there is a significant tonal difference between the two Vincent Price Dr. Phibes films of the early 1970s and William Goldstein's novels. The books retain the films' eccentricities, but are far more tragic than comedic. I do revere the two AIP releases. Director Robert Fuest and his production crew imbued both pictures with a sardonic touch that allowed Vincent Price and several of his co-stars to turn in subdued performance that carefully balance extreme bursts of horror, tragedy, and comedy. One never knows quite what to expect as one scene ends and the next begins when watching the films.